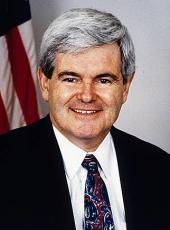 Gingrich Campaign Press Release - Reuters: Newt Gingrich Pushes Tax Cuts to Boost Economy
Newt presented the Gingrich Jobs and Prosperity Plan Friday to a group including Arthur Laffer, author of the Laffer Curve.
"WASHINGTON (Reuters) - Republican presidential candidate Newt Gingrich on Friday proposed a pro-business economic agenda to trigger job growth, moving quickly to use the fragile economy as a centerpiece of his campaign.

Gingrich, in his first public speech since declaring himself a 2012 candidate on Wednesday, offered a menu of standard conservative fare deeply opposed by his Democratic adversaries in remarks to a group led by economist Arthur Laffer."
The bold plan to win the future calls for nine key policy changes to achieve the right results.
"He said the answer is to generate job growth both to increase tax revenues and to get the unemployed off of government compensation. The United States currently has a 9 percent jobless rate although job growth has picked up steam in recent months.

'The first big step toward balancing the budget is 4 percent unemployment,' he said.

To trigger job growth, Gingrich proposed to cut the U.S. corporate tax rate from 35 percent to 12.5 percent, a deeper cut than some other Republican politicians have offered.

He would extend income tax cuts that expire in 2013, which were the subject of a pitched battle late last year when President Barack Obama tried to let tax reductions for wealthier Americans expire.

And he would completely eliminate the capital gains tax on stock profits.

Gingrich, proposed that the country move toward an optional flat tax for Americans of 15 percent, and strengthen the dollar by returning to 'Reagan-era monetary policies,' and reform the Federal Reserve to promote transparency.

Gingrich would break up government-backed mortgage giants Fannie Mae and Freddie Mac.

He would replace the Environmental Protection Agency with an organization that would promote U.S. energy growth."
Newt Gingrich, Gingrich Campaign Press Release - Reuters: Newt Gingrich Pushes Tax Cuts to Boost Economy Online by Gerhard Peters and John T. Woolley, The American Presidency Project https://www.presidency.ucsb.edu/node/298042