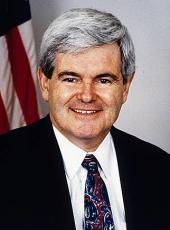 Gingrich Campaign Press Release - Obama Hides Real Costs of Fannie and Freddie Bailouts, Newt Gingrich's Plan Would Break Them Up
The Obama Administration is hiding the costs of the Fannie and Freddie bailouts from the American people to preserve Washington's broken model of outrageous spending, debt, and big-government bailouts?. From CNSNEWS.com:
The Congressional Budget Office (CBO) says the real cost of the federal government guaranteeing the business of failed mortgage giants Fannie Mae and Freddie Mac is $317 billion -- not the $130 billion normally claimed by the Obama administration.

In a report delivered to the House Budget Committee on June 2, the CBO said a "fair value" accounting of guaranteeing the two defunct mortgage companies – known as Government Sponsored Enterprises (GSEs) – was more than twice as high as the Office of Management and Budget had accounted for.
The non-partisan CBO has uncovered Obama's dishonest number as fraudulent.
Currently, Fannie and Freddie rely on explicit federal guarantees to continue to secure below-market financing rates. Because Fannie and Freddie are insolvent, the federal government must make up their losses when the loans they have guaranteed lose money in default.
The federal government has no business propping up companies that have failed business models. Newt Gingrich's Jobs and Prosperity Plan dissolves Fannie Mae and Freddie Mac, moving their smaller successors off government guarantees and into the free market?.
Newt Gingrich, Gingrich Campaign Press Release - Obama Hides Real Costs of Fannie and Freddie Bailouts, Newt Gingrich's Plan Would Break Them Up Online by Gerhard Peters and John T. Woolley, The American Presidency Project https://www.presidency.ucsb.edu/node/298317