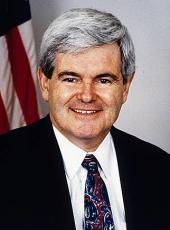 Gingrich Campaign Press Release - Newt's Daughter Campaigns in New Hampshire
Newt's daugther, Jackie Gingrich Cushman, was in New Hampshire yesterday to campaign for her dad and meet with voters.
In between campaign stops, she set the record straight about a vicious lie about Newt, shared stories about campaigning at a young age, and how being a grandfather has made Newt a different person. Here's an excerpt from the Concord Monitor:
When Jackie Gingrich Cushman, Newt Gingrich's daughter, traveled to Alaska to speak with a Republican group in February, a volunteer picked her up at the airport.

When Cushman, 45, called her mother - Newt Gingrich's first wife - to let her know she'd arrived safely, the volunteer was shocked, Cushman said in an interview with the Monitor yesterday.

"Your mom's alive?" the volunteer asked.

Yes, Newt Gingrich's first wife, Jackie Battley Gingrich, is a retired 75-year-old-school teacher living in Georgia.

"We really do have a lot of people who just read things, and they just assumed they were true," Cushman said while meeting with Republican women voters at a tea party in Merrimack.

But in a 1984 Mother Jones article, a former Gingrich aide described the then-Georgia congressman as cruelly discussing the conditions of a divorce with his first wife when she was in the hospital recovering from cancer surgery. He even took notes on a yellow legal pad while the woman was still "out of it," according to the article.

Like a perverse version of the children's game "telephone," the story has spun out of control, so even some supporters - like the volunteer in Alaska - think Newt Gingrich told his dying wife that he was leaving her for the woman he'd cheated on her with.

It is a "vicious lie," the Gingrich campaign says on its website.

...

It is a tradition carried on by her children: Maggie, 12 and Robert, 10, whom Gingrich refers to as his "debate coaches."

"She reminds him to smile and Robert reminds him that his answers should be shorter and more concise. And they are correct," Cushman said.

Echoing campaign staff and Gingrich himself, Cushman said her father is simply a different man now than he was 20 years ago.

"He listens better to people, both in everyday conversation and in discussions," she said. He has fun with his grandchildren - visiting zoos and museums, exchanging emails full of historical trivia questions and even the occasional game of chess.

"He has changed with having grandchildren," Cushman said. Her father was portrayed in a negative way by the national press, she said, and that's what people remember of him from that time.

"He's not that person. He's a great guy," she said.

Once the interview ended, Cushman went into a kitchen full of about 20 voters, most of them undecided, and made her case. Just as she's done her entire life.
Newt Gingrich, Gingrich Campaign Press Release - Newt's Daughter Campaigns in New Hampshire Online by Gerhard Peters and John T. Woolley, The American Presidency Project https://www.presidency.ucsb.edu/node/298060