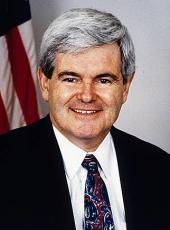 Gingrich Campaign Press Release - Newt: Wall Street Demonstrators Have 'Good Reasons to be Unhappy'
BLUFFTON, S.C. -- Newt Gingrich said that the "Occupy Wall Street" demonstrations that are appearing around the country are a reaction to President Obama's failed leadership.
"These are the Obama demonstrations," Gingrich said during a town hall meeting with at least 500 members of the Sun City retirement community here.
While he said the protests were being "organized by the left" and the "Michael Moore types," he said Republican candidates should try to channel demonstrators' anger to their advantage.
"The challenge to Republicans is simple," Gingrich said. "We have to remind them that in America, you get to create a revolution every two years. It's called an election," he said as the audience, packed to overflow capacity, cheered.
Gingrich touched on some of the groups' frustrations, with bank bailouts and the Federal Reserve, that dovetail with those of Tea Party groups – which typically don't claim a party but are generally associated with conservative ideas.
"If you're a 22 or 23 year old kid, and you're sitting out there with no job you're looking at these things and you're saying 'let me get this straight.'
How much did Goldman Sachs get? How much did the Paris bank get? How much did the bank of Libya get? And I'm supposed to pay off my student loan?"
"Look at [Fed chairman Ben] Bernanke, who has dealt with hundreds of billions of dollars in secret," Gingrich said.
Gingrich urged the Occupy Wall Street groups to stay peaceful. "You didn't see tea parties trashing anything," he said.
When asked whether he would reach out to the Occupy Wall Street groups in support, Gingrich said "absolutely."
"I think they have a lot of good reasons to be unhappy and I think we ought to indicate that their unhappiness should be aimed at the government. Because its the government's that's failed them."
Gingrich also voiced his own gripes with Washington, D.C. as he explained how he would change the health care system. He told the audience that Medicare fraud is so high because of "crooks like a dentist who filed 982 procedures a day," and that those cases are too much for a "9 to 5 bureaucrat" to deal with.
"Is the current system in Washington too obtuse to understand anything I just said? Yes," he said.
Gingrich was also asked how, as president, he would respond to recent reports that Iran plans to send ships near the Atlantic coast of the United States.
"As long as they stay legally outside our legal limits it wouldn't bother me," he said. "What I would do is I would assign a much bigger ship."
"And I would make sure that our ships were always contact capable, always armed, and that the Iranians knew that the very big ship towering over them. Occasionally I'd get just in front of them to create a wave to remind them just how small they were," he said, laughing along with the audience.
Gingrich and his wife Callista host a screening later tonight of their documentary "A City Upon a Hill" on Hilton Head Island.
Newt Gingrich, Gingrich Campaign Press Release - Newt: Wall Street Demonstrators Have 'Good Reasons to be Unhappy' Online by Gerhard Peters and John T. Woolley, The American Presidency Project https://www.presidency.ucsb.edu/node/298296