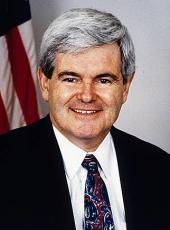 Gingrich Campaign Press Release - Newt: I Would Fire Secretary Chu for Solyndra Scandal
DAWSONVILLE, GA – Presidential candidate Newt Gingrich, speaking to the supporters at a fundraiser here this morning, blasted the Obama administration for failing to protect taxpayers in the Solyndra scandal.
"The president says he has full confidence in Secretary Chu despite this scandal. What kind of confidence can we have in a president who refuses to hold his cabinet officers accountable?" said Gingrich.
"As President, I would have fired Secretary Chu for so grossly mismanaging taxpayer dollars. Furthermore, to protect taxpayers, I would have blocked any additional loan guarantees until a full investigation had taken place into the mismanagement and potential corruption in the loan for Solyndra," Gingrich continued.
We now know that Secretary Chu personally approved the loan guarantees for Solyndra, whose largest investors include some of the biggest donors to Barack Obama's 2008 presidential campaign, and an additional loan restructuring program, despite information that the company was financially unstable.
Worse, instead of learning from the mistakes of Solyndra, reports show that Chu's Department of Energy rushed to approve an additional $4.7 billion in new loan guarantees to solar projects before an October 1st deadline, including $737 million to a company whose investors include a major Solyndra stakeholder and Minority Leader Pelosi's brother-in-law.
"The difference between a Gingrich administration and the Obama administration in approaching waste and corruption in government could not be clearer," continued Gingrich.
"My 21st Century Contract with America calls for moving power out of Washington and back to the states and the people, to reduce the arbitrary power of federal bureaucrats. It also calls for a complete overhaul of the federal government's work rules, processes and bureaucracies using proven private sector waste reduction and productivity improvement techniques like Lean Six Sigma."
"Meanwhile, the Obama admiration's central government premise is to consolidate power and control over the economy in Washington – whether through Obamacare or big government stimulus – thereby increasing the likelihood of corruption and lack of accountability of the government to the American people," said Gingrich.
Newt Gingrich, Gingrich Campaign Press Release - Newt: I Would Fire Secretary Chu for Solyndra Scandal Online by Gerhard Peters and John T. Woolley, The American Presidency Project https://www.presidency.ucsb.edu/node/297583