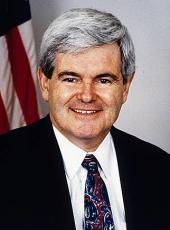 Gingrich Campaign Press Release - Newt: I Oppose the Obamacare Mandate. Period.
Newt believes it is unconstitutional for the federal government to impose an individual mandate requiring citizens to buy health insurance.
He is committed to the complete repeal of Obamacare and he supports the lawsuits of various state's Attorneys General challenging its constitutionality.
In a free society you cannot tell citizens what they should buy and what those things should be.
Newt also believes individuals should be responsible to pay for the care that they receive.
Under the 10th Amendment, states should be free to design a system that works best to achieve that goal.
Newt answers your questions on ObamaCare:
Newt: I am completely opposed to the Obamacare mandate on individuals. I fought it for two and half years at the Center for Health Transformation. You can see all the things we did to stop it at HealthTransformation.net. I am for the repeal of Obamacare and I am against any effort to impose a federal mandate on anyone because it is fundamentally wrong and I believe unconstitutional.
Newt Gingrich, Gingrich Campaign Press Release - Newt: I Oppose the Obamacare Mandate. Period. Online by Gerhard Peters and John T. Woolley, The American Presidency Project https://www.presidency.ucsb.edu/node/298132