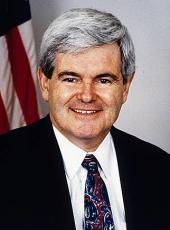 Gingrich Campaign Press Release - Newt: Drill Offshore for American Energy, South Carolina Jobs
Originally published in the Post and Courier
More South Carolina jobs, more state and federal revenue, more American energy, and a bigger, better Port of Charleston may all come in one package.
A simple and responsible solution for South Carolina's trouble funding a project to dredge the Port of Charleston may lie fifty miles offshore.
An estimated $28 billion worth of oil and natural gas are sitting off the South Carolina coast in land that the American people own but which the Obama administration refuses to allow to be developed. If the administration simply continued with plans it cancelled last year to permit exploration of this area, South Carolina could see a dramatic rise in revenue and thousands of new jobs.
The state has already approved a plan that would direct half of public revenues from offshore oil and natural gas development to the federal government and half to the state of South Carolina. That would be more than enough money to fund the dredging in Charleston Harbor that is badly needed to maintain one of America's most important ports.
This project is critical for South Carolina. The port is the fourth busiest on the East Coast and the centerpiece of one of the state's largest industries. It accounts for an estimated 260,000 jobs statewide. Those jobs will be in jeopardy if the new mega-ships that will begin traveling through the expanded Panama Canal in 2014 cannot use Charleston's port, which will be too shallow to accommodate them without further dredging.
Like the shipping industry, offshore drilling and natural gas should also have an important place in South Carolina's future.
Offshore oil development would add at least 8,800 jobs in South Carolina and at least $1.3 billion to the local economy, according to a 2009 report by the American Energy Alliance. And there are likely to be even larger deposits of oil and gas than current estimates suggest, since they are based on surveys conducted with technology that is now decades out of date. Energy off South Carolina could be worth tens of billions.
With its excellent harbor and strong maritime infrastructure already in place, Charleston could be positioned to benefit from offshore energy development as an early mover in the industry on the Atlantic coast.
Using this energy revenue to fund the harbor dredging is a perfect solution for a project that almost everyone agrees must be completed, but which has faced repeated setbacks. Members of both parties can enthusiastically embrace both the dredging and the influx of a new industry poised for tremendous growth.
The administration's continued obstruction is what stands between bipartisan support for these plans and more jobs, more revenue, more American energy, and a more competitive Port of Charleston.
Since the president reneged last year on a promise to allow oil and natural gas development on federal lands on the Atlantic Outer Continental Shelf, states along the East Coast have been denied what could become an important source of revenue and tens of thousands of high-paying jobs.
The Port of Charleston, meanwhile, has struggled to secure funding for the Army Corps of Engineers to study deepening the harbor for larger ships. Even though Charleston was finally granted funding to begin the project last spring, it remains precariously contingent on Washington's favor to continue the process. And since the Obama administration has refused Charleston funding while sending millions to some much smaller ports in the past, one of South Carolina's most important economic assets should not be a hostage to that hope.
South Carolina's congressional delegation should work to pass legislation similar to Virginia Sens. James Webb and Mark Warner's bill that would force the government to move ahead with offshore drilling there.
Dredging Charleston Harbor is crucial for this state, and it will take a decade to complete even with full funding. It needs to begin now. South Carolinians should call on President Obama to permit development of their state's energy resources immediately and stop standing in the way of projects that are vital to South Carolina's future.
Newt Gingrich, a former U.S. House speaker from Georgia, is seeking the 2012 Republican presidential nomination.
Newt Gingrich, Gingrich Campaign Press Release - Newt: Drill Offshore for American Energy, South Carolina Jobs Online by Gerhard Peters and John T. Woolley, The American Presidency Project https://www.presidency.ucsb.edu/node/297965