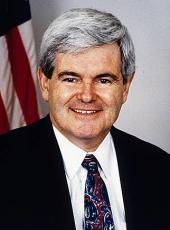 Gingrich Campaign Press Release - Newt Discusses Upcoming Release of New '21st Contract with America'
Originally posted on DesMoinesRegister.com
By Jennifer Jacobs
At a Council Bluffs, Iowa event Newt discusses the upcoming release of the new 'Contract with America', which will hearken back to the historic 1994 version that he helped compose.
...Newt Gingrich promised to lay out a "very visionary" new Contract with America during a speech next week in Iowa.

It "will be 10 times deeper and more comprehensive than 1994," he told an audience of about 40 people Monday night in Council Bluffs. "Because the truth is, while we changed the system some … we didn't fundamentally change the underlying system."

The new "21st Century Contract with America" will, he said.

Gingrich said his ideas, which he will unveil Sept. 29 in Des Moines, are "very big, and they're exactly what Abraham Lincoln would have campaigned on."

Monday night's campaign stop, at Bent Tree Golf Club, centered on a screening of "A City Upon a Hill," a documentary Gingrich and his wife, Callista, helped create about the concept of American exceptionalism.

Afterward, Gingrich spoke and answered questions for an hour, flexing his intellectual muscles and calling his campaign "the antithesis" of the other campaigns.

"One of the major themes of next year if I'm the nominee is going to be that (President Barack) Obama is the best food stamps president in American history and I'll be the best paycheck president in American history," he said.

"And I will be happy to debate Obama on any university campus in the country, including Harvard and Berkeley. I'm not afraid to debate this president anywhere, any time, on any topic."

Gingrich had the audience laughing multiple times with quips and stories about his personal life, including his childhood ambition to be either a paleontologist or a zoo director.

After the 2½-hour event, Sam McManus, 58, of Council Bluffs said Gingrich's pitch "changed my whole perception of him" from a has-been to a serious contender.

McManus's wife, Anna, a railroad official, went even further. She said she was previously leaning toward Mitt Romney or Rick Perry, but "it's going to take a lot to get me to go anywhere else now. Mitt is good, but he's not going to have ideas like this."

The original Contract with America presaged today's tea party movement with its calls for smaller government, lower taxes and greater public accountability.

Republicans released it just weeks before the 1994 election, promising specific action if they won the majority in the U.S. House for the first time in 40 years. They reclaimed the majority, Gingrich became speaker, and he battled President Bill Clinton along the way to a government shutdown.

...

Gingrich's two-day Iowa campaign swing continues today with a town hall meeting at Morningside College in Sioux City at 2 p.m.
Newt Gingrich, Gingrich Campaign Press Release - Newt Discusses Upcoming Release of New '21st Contract with America' Online by Gerhard Peters and John T. Woolley, The American Presidency Project https://www.presidency.ucsb.edu/node/297961