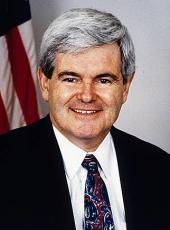 Gingrich Campaign Press Release - Newt 2012 Campaign on the Rise
Originally posted on irmo.patch.com
By Hal Millard
After a shaky summer, Newt's campaign is quickly rising. He spoke on the state of the campaign while in South Carolina on Wednesday.
COLUMBIA — Just five short months ago the newly minted presidential campaign of Newt Gingrich seemed dead on arrival. Deader than dead. So dead it was almost comical.

Kaput. Doornail dead.

That's what the pundits and political analysts said, at least. For barely had the Georgia Republican and 90's era U.S. House Speaker announced his candidacy did a plague of political locusts descend in biblical proportions upon him.

Major top-level staff defections. Anemic fundraising and campaign debt after his money-men also bailed. An ill-timed luxury cruise that fed the perception he wasn't a serious candidate. And then the scandal over six-figure debts incurred by third wife Callista's alleged penchant for expensive jewelry, while great swaths of the country suffered from the worst economic crisis since the Great Depression.

And those were just some of the lowlights of perhaps one of the most calamitous campaign rollouts in recent memory.

But funny what a difference a few months can make.

Far from limping into town, the re-purposed and re-energized candidate came to the Midlands on Tuesday riding a surge in the polls. The visit also followed well-received debate appearances in recent weeks and notable Tea Party endorsements around the country, including Allen Olson, the former head of the Columbia Tea Party who recently resigned his position to help Gingrich's campaign coordinate grassroots efforts in the state.

And Gingrich's visit also came on the heels of his release last week of his "21st Century Contract with America," which plays off his "Contract with America" from the 1990s that helped the GOP gain control of Congress and make Gingrich arguably the most powerful Republican in the country.

Gingrich, along with wife Callista, journeyed to Columbia Tuesday night to campaign and to host a screening of their movie, "City Upon a Hill," to a throng of about 70 people at an event hosted by the Columbia Tea Party.

Gingrich told Patch he believes his turnaround and the new life that has been injected in his campaign is fairly simple.

"I think it's two things. I think being very positive in the debates and focusing on solutions, and not getting drawn into fighting [the other candidates]," he said. "And I think second, releasing the "Contract with America" and outlining all the ideas that you can see at Newt.org. So people saw that this was real, and it reminded them of what I had accomplished in the past."

Brent Rutherford, who recently moved to the Midlands from Alabama, said he likes Herman Cain, but is leaning more and more heavily to Gingrich each day.

"I like Cain because he's a straight shooter. He has a vitality, there's just something there that nobody else has that he does," he said. "Romney is OK. But he bores me. Perry's just like Bush, just dumber. Bachmann couldn't possibly win; neither could Ron Paul, even though I agree with a lot he says.

"But I'm coming around to Newt and I'll probably vote for him because he's smart and he's got real ideas," Rutherford continued. "And bottom line, I think, is that Newt is probably the closest of these candidates to being a real, true Reagan conservative. And that's what I want, that's what I want more than anything."

Carolina on his mind

Following the event, which included a book signing, the Gingrich's were scheduled to spend the night at the Governor's Mansion at the invitation of Gov. Nikki Haley, whose endorsement is coveted by Gingrich and his fellow GOP candidates.

"She has a lot of challenges, both because of the economy and because she is a genuine reformer," Gingrich said of Haley. "So I'm looking forward to learning from her. I have several specific proposals, for example development of oil and gas offshore and for development of the Charleston Harbor. So I look forward to talking to her about economic development in South Carolina."

Regarding speculation that Haley is a potential vice presidential candidate, Gingrich said he believed Haley likely "would be on anyone's short list."

As for the one of the other hot topics in the state — the ongoing battle between the federal National Labor Relations Board and Boeing's new Charleston plant — Gingrich told reporters he's been urging House Republicans to simply "zero out the (NLRB) and quit funding it. When you have a runaway bureaucracy, you have an obligation to get it under control," he said.

"I think they ought to have, absolutely, a prohibition against the kind of destructive activity, not just here, but across the country, that the (NLRB) has been engaged in," Gingrich added. "It is absolutely outrageous. It is destructive to every right-to-work state in the country, and what it will end up doing is driving jobs overseas."

Though Gingrich may be surging in the polls elsewhere, he's in the middle of the pack in South Carolina. The state Republican Party's decision this week to move up its primary by more than a month to Jan. 21, however, doesn't concern Gingrich much, though the compressed timeframe will certainly keep candidates on their toes and force them to campaign through the holidays.

"It doesn't change the ground game here so much as it changes Christmas," Gingrich told Patch. "I think what it will mean is probably the Monday after Thanksgiving you're just going to sprint all the way through January and February. It will be wild. We've just begun thinking through how to adjust to all of it."

Campaign finance disclosures are due soon, but Gingrich demurred when asked how he would fare in the latest round of fundraising other than to say he expected to be competitive.

"I think it's really interesting. Gov. Perry and Gov. Romney both have more in the bank, but fewer votes in the polls," Gingrich said. "And I think that may tell you something about where the American people are. I think the American people are responding to ideas and not to money. … And I think that's why you've seen both Herman Cain and me rise."
Newt Gingrich, Gingrich Campaign Press Release - Newt 2012 Campaign on the Rise Online by Gerhard Peters and John T. Woolley, The American Presidency Project https://www.presidency.ucsb.edu/node/297824