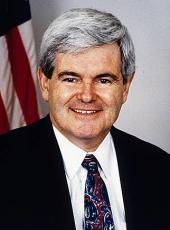 Gingrich Campaign Press Release - Iowa Tea Party Leader Endorses Newt, Joins Staff
Charlie Gruschow, founder of the Des Moines Tea Party, endorsed Newt for president today saying that he has the experience we need to reduce the size and scope of government and return power back to the states. Gruschow, formerly a Hermain Cain, supporter, will also join the campaign as a senior advisor.
I believe that Newt is a constitutionalist and understands the intentions of the founding fathers when they established our republic with a limited role played by the federal government and a greater role played by the states as set forth by the 10th Amendment.

He also has a tremendous knowledge of American History and the intentions of the Founding Fathers to limit the power of the judicial branch of government.

Newt understands the importance of maintaining good relations with Israel, has suggested he would support moving the capitol from Tel Aviv to Jerusalem; would challenge Planned Parenthood and Roe v. Wade thru the personhood clause in the 14th amendment.

He understands the importance of small business to the U.S. economy and has stated that immediately after being sworn in as president he would use the executive order privilege to repeal much of what Obama has enacted into law including the czars.

We need to reduce the size and scope of the federal government and control spending. I believe that Newt has the experience to do this."
Newt Gingrich, Gingrich Campaign Press Release - Iowa Tea Party Leader Endorses Newt, Joins Staff Online by Gerhard Peters and John T. Woolley, The American Presidency Project https://www.presidency.ucsb.edu/node/297995