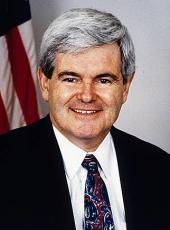 Gingrich Campaign Press Release - Grassroots Momentum Continues in South Carolina with Two Big Tea Party Endorsements
Myrtle Beach and Laurens County Tea Party overwhelmingly endorse Newt
Greenville, SC - In yet another sign of growing grassroots momentum, two major South Carolina tea party groups have now voted to endorse Newt Gingrich for President.
Members of the Myrtle Beach Tea Party voted on Monday night to endorse the former Speaker with 75% of the vote. This follows the Laurens County Tea Party, where Newt won with a resounding 80% margin a few nights earlier.
Of the endorsement, Laurens County Tea Party President Dianne Belsom wrote, "Newt is the most electable conservative who can clearly articulate the Tea Party agenda of lower taxes, free enterprise, smaller government, and state sovereignty…Newt is running a positive campaign, and we believe that the common-sense solutions he offers, his vast experience, his grasp of history, and his superior debate skills have led to his rapid rise in the polls. His 21st Century Contract with America is an inspiring document which offers every American hope for the future."
Joe Dugan, in explaining the endorsement of the Myrtle Beach Tea Party, said "Newt Gingrich, alone, has the knowledge, experience and vision to pull our nation back from the precipice of insolvency. We believe that, as he looks at our country and his own grandchildren, he will do everything in his power to restore the true America that we all once knew and loved, for his descendants and ours."
Reacting to the endorsement, Speaker Gingrich stated "Since 2009, I've spent a great deal of time listening, learning and working with Tea Party and 912 leaders from around the country." He continued, "I know how hard the members of these two groups have worked over the past few years and how seriously they take their duty as citizens. I am humbled by their support and look forward to working with them - side by side - to reassert Constitutional government and rebuild the country we love."
These two group endorsements follow on the heels of a number of personal endorsements from South Carolina tea party leaders, among them Allen Olson (former Chairman, Columbia Tea Party), Shery Smith (Sumter Tea Party), Joe Dugan (President, Myrtle Beach Tea Party), Charlotte Hendrix (Florence County Tea Party) and Chris Horne, Joanne Jones and Jim Davis of the Charleston Tea Party.
Newt Gingrich, Gingrich Campaign Press Release - Grassroots Momentum Continues in South Carolina with Two Big Tea Party Endorsements Online by Gerhard Peters and John T. Woolley, The American Presidency Project https://www.presidency.ucsb.edu/node/297975