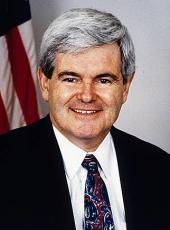 Gingrich Campaign Press Release - Gingrich Tells Morningside Audience He Can Beat Obama
Originally posted at SiouxCityJournal.com
By Michele Linck
Speaking to a group of over one hundred students at Morningside College in Sioux City, Iowa, Newt addressed his solutions to issues such as immigration, job creation, and American energy.
SIOUX CITY -- Republicans can win the White House in 2012, but only if they give Newt Gingrich the party's nomination. And a second term in 2016, as well.

Gingrich, speaking Tuesday afternoon at Morningside College, didn't put it so bluntly, but the point came across as he addressed an audience of more than 100 students and what appeared to be older Republicans there to gauge whether he is the one to support.

The Republicans won in 1978, Gingrich said, with supply-side economics: If you cut taxes and spending, you create jobs. As president, he would cut taxes and develop America's energy resources, including off-shore oil and 110 years' worth of natural gas, using new drilling techniques.

He talked about the Republicans' 1994 Contract with America and promised to release details of a 21st Century Contract with America on Thursday in Des Moines. "It's a more complex Contract than in 1994," he said. "We were standing on Ronald Reagan's shoulders then."

The simpler contract helped the GOP win eight more Senate seats and 54 seats in the House of Representatives.

Gingrich outlined his immigration plan: Secure the nation's southern border by 2014; deport criminals quickly; then use a World War II Selective Service model of neighborhood committees to determine which undocumented immigrants stay -- and then document them as legal, although not as citizens -- and give their children not born here citizenship.

"I do not think this country is going to go around deporting good people," he said. "It is a huge advantage to us to get people inside the law."

He called for: a "more agile" civil workforce, competing with China for manufacturing; and a teen jobs program "to give people hope and the experience of going to work every day."

Former Sioux City Councilman Jason Geary asked Gingrich if he could beat Obama in 2012. Gingrich said Obama would be president if the election is "about money." Then he asked the audience to think about whom they would want debating Obama come October 2012. He noted he has worked with Reagan, led a national movement and helped Republicans gain a majority in the House for the first time in 40 years.

"If I win, I would know how to govern," Gingrich said. "Washington is a very complicated place. It's not like governing a state."

And Gingrich got a standing ovation for his closing: "I ask you to be with me the next eight years," he said. "Together I really think we can turn it around."

Gingrich, accompanied by his wife, Callista, spoke for an hour and took questions from the audience for another 20 minutes.

He was introduced by Sam Clovis, a Morningside College professor who chairs the department of business administration and economics and host of a conservative political radio show on KSCJ-AM radio.
Newt Gingrich, Gingrich Campaign Press Release - Gingrich Tells Morningside Audience He Can Beat Obama Online by Gerhard Peters and John T. Woolley, The American Presidency Project https://www.presidency.ucsb.edu/node/297647