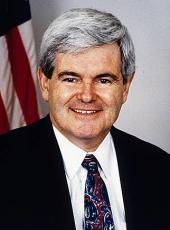 Gingrich Campaign Press Release - Gingrich to Present Jobs and Prosperity Plan to Laffer Associates
Washington, DC – Newt Gingrich, speaking to the 51st Washington Conference with Laffer Associates tomorrow morning, will outline the Gingrich Jobs and Prosperity Plan.
"I worked with Art Laffer and Jack Kemp on the Reagan economic policies that produced an unprecedented twenty-five year economic boom of job creation, wealth and prosperity," said Gingrich. "This extraordinary success is proof that the right policies lead to the right results."
"We've done it before, we can do it again," added Gingrich. "That's what the Gingrich Jobs and Prosperity Plan is all about."
The Gingrich Jobs and Prosperity Plan includes:
Stop the 2013 tax increases to promote stability in the economy. Job creation moved from stagnant to improving in the three months after Congress extended tax relief for two years. We should continue what has worked by making the rates permanent.
Make the United States the most desirable location for new business investment through a bold series of tax cuts, including: Eliminating the capital gains tax to make American entrepreneurs more competitive against those in other countries; Dramatically reducing the corporate income tax (the highest in the world) to 12.5%; Allowing for 100% expensing of new equipment to spur innovation and American manufacturing; Ending the death tax permanently.
Move toward an optional flat tax of 15% that would allow Americans the freedom to choose to file their taxes on a postcard, saving hundreds of billions in unnecessary costs each year.
Strengthen the dollar by returning to the Reagan-era monetary policies that stopped runaway inflation and reforming the Federal Reserve to promote transparency.
Remove obstacles to job creation imposed by destructive and ineffective regulations, programs and bureaucracies. Steps include: Repealing the Sarbanes-Oxley Act, which did nothing to prevent the financial crisis and is holding companies back from making new investments in the U.S; Repealing the Community Reinvestment Act, the abuse of which helped cause the financial crisis; Breaking up Fannie Mae and Freddie Mac, moving their smaller successors off government guarantees and into the free market; Replacing the Environmental Protection Agency with an Environmental Solutions Agency that works collaboratively with local government and industry to achieve better results; and Modernizing the Food and Drug Administration to get lifesaving medicines and technologies to patients faster.
Implement an American energy policy that removes obstacles to responsible energy development and creates jobs in the United States.
Balance the budget by growing the economy, controlling spending, implementing money saving reforms, and replacing destructive policies and regulatory agencies with new approaches.
Repeal and replace Obamacare with a pro-jobs, pro-responsibility health plan that puts doctors and patients in charge of health decisions instead of bureaucrats.
Fundamental reform of entitlement programs with the advice and help of the American people.
####
FAIRMONT HOTEL

ROOSEVELT ROOM

2401 M STREET, NW

WASHINGTON, DC 20037
Gingrich speaks at 8:00am. His remarks are open to the media. He will be introduced by Art Laffer.
Newt Gingrich, Gingrich Campaign Press Release - Gingrich to Present Jobs and Prosperity Plan to Laffer Associates Online by Gerhard Peters and John T. Woolley, The American Presidency Project https://www.presidency.ucsb.edu/node/297567