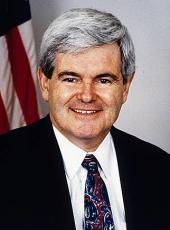 Gingrich Campaign Press Release - Ellis the Elephant and Sweet Land of Liberty
Originally posted at HumanEvents.com
By Newt Gingrich
One of the most exciting events this fall for me personally is the arrival of Ellis the Elephant.
As you know, I love American history. Having coauthored eight historical novels, I would say finding creative ways to tell the American story has been one of the main objectives of my career.
Ellis the Elephant appears this week in a new book, Sweet Land of Liberty, written by my wife, Callista Gingrich, and illustrated by Susan Arciero. I am convinced that Ellis the Elephant will introduce a new generation of young people to our American history.
Sweet Land of Liberty already has a review at Amazon more overwhelmingly positive and glowing than any review I've received after writing 24 books.
I'm not surprised. When you see Ellis, it's hard not to fall in love with him. Callista considered many types of animals to accompany children through American history -- including giraffes, bunnies, and hippos. But when she saw Ellis, she couldn't resist this adorable elephant.
Written for 4-8-year-olds, Ellis' adventures through history are the perfect introduction to understanding America. With Ellis, children learn about the pivotal moments that have shaped our nation. Ellis joins the Pilgrims at their first Thanksgiving. He helps American colonists throw tea into the Boston Harbor at the Boston Tea Party. Ellis crosses the Delaware River with George Washington. And when Orville Wright flies the first airplane, Ellis is right there on the wing. (He is a light elephant!)
I think children are going to love discovering American history with Ellis. Our history is shaped by so many wonderful stories of heroic achievement. Creative inventors, determined entrepreneurs, and visionary leaders have made America a great nation. Helping children understand America's greatness is critical.
America is a nation defined by its history. I suspect this is why the elites have quit teaching American history. For two generations, our children have been denied the opportunity to learn about this land we love. Without history, it's hard for them to understand how lucky we really are to live here.
The results of this neglect have been devastating. Young Americans simply don't know about America.
The Department of Education's "National Report Card" last June showed that a majority of fourth graders didn't know why Abraham Lincoln was important. Fewer than half knew that George Washington won the Revolutionary War and became our first president.
Another recent survey showed that more than half of the teenagers polled didn't know when the Civil War was fought. A fourth of those surveyed got Christopher Columbus' discovery of America wrong by 250 years.
Since our schools clearly fail to teach students even the basic facts of American history, it's up to parents, grandparents, aunts, uncles, and patriotic friends to step in and help our children learn about America.
That's why I'm proud of what Callista has done with Sweet Land of Liberty and why I'm excited about Ellis the Elephant.
I have to say, I'm very impressed with the result. After writing so many books for adults, it never occurred to me how hard it is to write for 4-8-year-olds. The vocabulary has to be both interesting and understandable. The rhymes have to work so the book can be read out loud with a nice rhythm. The pictures have to be lively, educational, accurate, and fun.
Callista and Susan took painstaking care to make sure the book was just right for young children.
With students scoring so poorly in American history, Sweet Land of Liberty is more important now than ever. I'm hoping we'll see a lot more of Ellis soon, as well as more students who understand what makes America exceptional.
Newt Gingrich, Gingrich Campaign Press Release - Ellis the Elephant and Sweet Land of Liberty Online by Gerhard Peters and John T. Woolley, The American Presidency Project https://www.presidency.ucsb.edu/node/298657