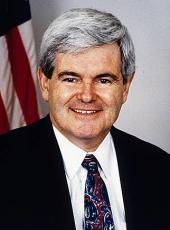 Gingrich Campaign Press Release - In Columbia, Gingrich will Denounce NLRB Complaint, Discuss Job Creation
Columbia, SC – Today, Newt Gingrich, in a speech to the Five Points Rotary Club of Columbia will denounce the National Labor Relations Board (NLRB) complaint against Boeing Co. as a dangerous precedent that could put millions of future jobs at risk. "If companies are prevented from investing in right-to-work states, they will simply look overseas," said Gingrich. "If successful, the complaint won't save union jobs, it will simply prevent new jobs from being created here in America." "Faced with our current slow economic growth, we should be making it easier for companies and entrepreneurs to create jobs in the United States, not harder," added Gingrich before he departed for South Carolina this morning.
Gingrich will also denounce the NRLB complaint as a payoff to the Obama Administration's Big Labor allies and a prime example of the corrupting nature of big government. "This complaint is an explicit and devastating example of the Obama administration's reckless and dangerous use of the power of big government to reward its political backers," said Gingrich.
Gingrich will call on President Obama to withdraw the nomination of Lafe Soloman, the acting General Counsel of the NLRB, and Craig Becker, who have not yet received Senate confirmation.
"The Republican Congress should withdraw all funding for the NLRB until President Obama withdraws the nominations of Lafe Soloman and Craig Becker, and appoints replacements who pledge to uphold the rule of law instead of the rule of big labor," said Gingrich.

Gingrich pointed out that picking winners and losers is not limited to trying to control where companies create jobs, he cited the favoritism towards political allies of the Obama Administration displayed in who is being granted waivers by the Secretary of Health and Human Services from many of the regulations put in place by Obamacare. Notably, twenty percent of the recent round of waivers were granted in former Speaker Nancy Pelosi's district.
Gingrich will also discuss his Jobs and Prosperity Plan during the speech, a bold series of tax cuts, spending cuts and regulatory reforms based off the successful policies he employed while Speaker of the House that worked to create jobs and balance the budget. "Only with the right policies are we able to get the right results," Gingrich said. The Gingrich Jobs and Prosperity Plan can be found here.
Newt Gingrich, Gingrich Campaign Press Release - In Columbia, Gingrich will Denounce NLRB Complaint, Discuss Job Creation Online by Gerhard Peters and John T. Woolley, The American Presidency Project https://www.presidency.ucsb.edu/node/298579