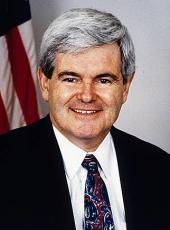 Gingrich Campaign Press Release - CNBC Video--Gingrich: Balance Budget by Cutting Taxes and Government
"A Newt Gingrich presidency would see sweeping tax cuts, 'very serious deregulation'and stringent limits on unemployment benefits after four weeks, the outspoken conservative told CNBC.
As part of a five-point plan, the former House leader said he would eliminate the National Labor Relations Board, replace the Environmental Protection Agency and repeal the national health care plan, often called ObamaCare.
He said he would cut regulations on financial institutions, including eliminating the Sarbanes-Oxley law that governs accounting practices of publicly traded companies.
Amid all the tax-cutting and agency consolidations would come a return to a fiscal policy that he said emanates "directly from the Reagan playbook."
'I think these kinds of steps would move us toward a very dramatic job growth, which is the best way to move towards a balanced budget—by getting people off of unemployment, off of Medicaid, off of food stamps, get them back into earning a living and paying taxes,' he said.
Gingrich's plan involves five tenets: no tax increases in 2013; eliminating the capital gains tax; allowing companies to deduct capital expenses fully; reducing the corporate tax rate to Ireland's rate of 12.5 percent; and abolishing the death tax.
Despite needing to plug a budget deficit approaching $1.5 trillion and a national debt 10 times that level, the Georgian firebrand said his plan would generate revenue through growth, not taxation.
'Washington would like to raise taxes because Washington would like to spend more money,' he said. 'The American people know this country is not undertaxed, this country is overspent.'"
The full article:http://www.cnbc.com/id/43149295
Newt Gingrich, Gingrich Campaign Press Release - CNBC Video--Gingrich: Balance Budget by Cutting Taxes and Government Online by Gerhard Peters and John T. Woolley, The American Presidency Project https://www.presidency.ucsb.edu/node/298573