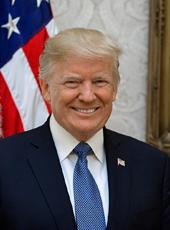 Gina Haspel Has Defended Our National Security
A CAREER DEVOTED TO DEFENDING AMERICANS: By opposing CIA Acting Director Gina Haspel, a distinguished intelligence professional, some Senators are putting their political interests ahead of our national security.
CIA Acting Director Gina Haspel is a widely-praised career intelligence officer, and by opposing her, some Senators are attempting to block:

The first woman ever nominated to be Director of the CIA;
A 33-year career veteran of the CIA; and
The first career CIA officer to be nominated as Director in 52 years.

Haspel has served as the Deputy Director of the CIA, Deputy Director of the National Clandestine Service, Chief of Staff for the CIA's Directorate of Operations, and as a Chief of Station four times.
Haspel has received many honors and awards throughout her distinguished career, including the Intelligence Medal of Merit, a Presidential Rank Award, and the Donovan Award.

Haspel received the George H.W. Bush Award for Counterterrorism for spearheading an operation that led to valuable intelligence collection and the arrest and imprisonment of two terrorists.

Haspel has extensive counterterrorism experience, having served in the CIA's Counterterrorism Center and in the field.
A FALSE DEBATE: Policymakers who set up, approved, and were briefed on enhanced interrogation techniques are the ones who were responsible for the program, not the CIA's dedicated and professional officers like Haspel who served honorably.
Congressional leadership, including House Minority Leader Nancy Pelosi (D-CA), were briefed as early as 2002 on the CIA's interrogation program according to unclassified documents by the agency.

In 2009, then-CIA Director Leon Panetta confirmed this, stating that CIA officers had briefed certain Members of Congress in 2002.

The Justice Department's Office of Legal Counsel, which signed off on the CIA's interrogation program in 2002, determined the program's legality, not career officers at the agency.
REPEATEDLY VINDICATED: Despite attempts to smear a dedicated intelligence officer, repeated reviews have found that Haspel did not order and was not responsible for the destruction of interrogation tapes.
Multiple reviews have found that Haspel was not responsible for any wrong-doing related to the destruction of tapes showing enhanced interrogations:

Jeremy Bash, who in 2007 was serving as the Chief Counsel to Democrats on the House Intelligence Committee, has said their investigation found "that Haspel was not depicted on the videotapes and that she did not make the decision to destroy" them.
In 2011, then-CIA Deputy Director Michael Morrell conducted a review and said he "found no fault with the performance of Ms. Haspel," and directly attested that "it was not her decision to destroy the tapes."
FALSE AND INACCURATE CHARGES: Despite repeatedly facing false or misleading allegations against her, the facts show that Haspel has served her nation honorably and acted legally.
Director of CIA's Public Affairs Office Dean Boyd: "It is important to note that [Haspel] has spent nearly her entire CIA career undercover. Much of what is in the public domain about her is inaccurate."
One news outlet had to issue a retraction after it published an inaccurate story that falsely claimed Haspel was present for a reported enhanced interrogation.

A CIA spokesperson said that "nearly every piece of reporting" in the article was "incorrect in whole or in part."

Given the sensitive and classified nature of much of their work, the CIA and Haspel cannot always deny or push back against false or inaccurate reporting.

By enduring these false attacks on her character, Haspel has put America's national security above her own self-interest.
A WOMAN OF INTEGRITY: Current and former intelligence officials have attested that Haspel is "unfailingly honest," "committed to the rule of law," "professional," and has a "high moral character."
Director of National Intelligence Dan Coats: Haspel is an "exceptional, professional, and talented individual."
Former Chairman of the House Permanent Select Committee on Intelligence Rep. Mike Rogers (R-MI): Haspel's "commitment to the mission and rule of law are unparalleled."
Former CIA Deputy Director and Former White House Deputy National Security Advisor Avril Haines: "Gina Haspel is intelligent, compassionate, and fair."
Former Director of U.S. National Clandestine Service John Bennett: Haspel "is extremely smart, strong and unfailingly honest."
Former CIA Associate Deputy Director of Operations Robert Richer: Haspel "is a person with no political agenda, high moral character, great integrity and compassion."
Former CIA Chief of Station Daniel Hoffman: "Congress should have no trouble recognizing the key traits that make Ms. Haspel the right choice to lead the CIA: integrity, substantive expertise in the art of intelligence, leadership excellence and commitment to our mission and people."
Former Counselor to the Attorney General for National Security and International Matters Amy Jeffress: Haspel "is thoughtful, conscientious, and committed to the rule of law."
Dozens of former intelligence, national security, and foreign policy officials, in a letter to the Senate Select Committee on Intelligence: Haspel "has the integrity, experience and determination it takes to safeguard our nation and lead the men and women of the CIA."
Donald J. Trump, Gina Haspel Has Defended Our National Security Online by Gerhard Peters and John T. Woolley, The American Presidency Project https://www.presidency.ucsb.edu/node/335978