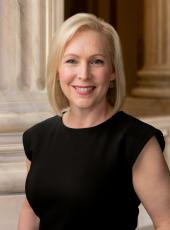 Gillibrand Campaign Press Release - Gillibrand's Debate Breakouts
Performance shows why she is the strongest candidate on women's rights, rooting out political corruption, taking on President Trump, and handling the threat of war with Iran
At tonight's Democratic presidential debate, Senator Kirsten Gillibrand demonstrated to voters that she has the strength to take on the fights for women and families that no one else will, and that she has the vision, record and toughness to beat President Trump. On stage, Gillibrand drew strong contrasts between herself and the rest of the Democratic field, highlighting her distinction as...
The fiercest fighter for women in the field.
As observers have consistently noted, no candidate in the field can match Gillibrand's advocacy for women's reproductive and human rights. She was the first candidate to pledge to only nominate judges who will uphold Roe v. Wade, and traveled to the frontlines in Georgia to stand with patients and providers to roll out the most robust reproductive rights agenda in the field, and prompted other 2020 Democrats to follow suit. Tonight she further cemented her leadership on women's issues, issuing a blistering answer that conveyed one thing: she will not negotiate on women's reproductive and human rights.
The only candidate with a comprehensive plan to take on political corruption and get money out of politics.
In the first night of debates, no candidate discussed the urgent need to root out corruption by publicly funding our elections. And for all of the progressive ideas shared on either stage, no candidate has put out a comprehensive plan to make them possible while special interest greed, corruption, and gridlock still paralyze Washington. That changed tonight, when Gillibrand highlighted her Clean Elections Plan, a bold plan to take on political corruption through clean publicly funded elections. Ethics expert Lawrence Lessig said that "her 'Democracy Dollar' program Is THE MOST transformative of any" in the field.
The strongest anti-Trump candidate.Mbr>After a night when many Democratic candidates conspicuously avoided mentioning President Trump, Gillibrand went straight at the president, highlighting that fact that she has opposed his agenda more than any other senator or 2020 candidate.
The best equipped to deal with the imminent threat of war with Iran.
Ten candidates were asked about the biggest foreign policy change they would make as president. Only Senator Gillibrand talked about pulling us back from the brink of war with Iran.
Kirsten Gillibrand, Gillibrand Campaign Press Release - Gillibrand's Debate Breakouts Online by Gerhard Peters and John T. Woolley, The American Presidency Project https://www.presidency.ucsb.edu/node/365093