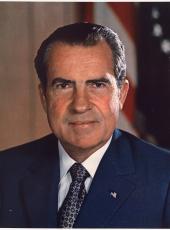 From the Vice President of the United States to Senator John Kennedy
As I told you Friday evening, your wire with regard to asking for a fifth debate was delivered to me just prior to our going on the air.
In view of the fact that I told you on that occasion that I was preparing an answer to your wire and have since indicated a willingness to meet with you on television again if I am convinced it would be constructive and in the public interest, I find it difficult to understand your continued public statements to the effect that "I am afraid to meet you in debate." Such a statement is sophomoric and not worthy of one who is running for the highest office in this land. Furthermore, you know it is untrue.
Just to set the record straight with regard to our debates up to this point, it was first agreed that we should have three debates. And that at your request we would attempt to work out the terms for a fourth debate, which I did. At that time it was definitely agreed that we could go forward with planning our campaign appearances on the assumption that this would be the total number during the campaign. As a result, I have commitments for all the campaigning days between October 21 and November 8.
The record should also show that when you suggested a fifth debate I agreed providing we could do it by adding an extra hour on the same evening we had the fourth debate. Your representatives at first refused to accept this proposal and, when you finally announced you would accept it, the networks were unable to arrange it.
Looking to the future, let me state my position clearly, so you will understand it.
I will try to rearrange my schedule to fit in a fifth meeting if I believe it would serve a constructive public purpose.
Unbiased observers agree that in our last two debates some of the same ground has been covered and that the questions in some instances have become repetitious. For 4 hours we have discussed on television many questions - how to keep the peace and extend freedom, the state of our military and moral strength, our economic growth, and the problems of providing for the human needs of our people. However, in one sense, these meetings have not been debates but merely interrogations on some of the issues of the day.
Comparing these meetings with the Lincoln-Douglas debates, as some have done, is not an accurate analogy. What made those debates so significant and memorable is that they dealt with one subject of great immediate public interest on which the candidates completely disagreed with each other. Such an issue has developed in this campaign during the last several days as a result of my speech before the American Legion on Wednesday and your response issued in New York on Thursday, and the brief discussion which we had concerning it during our television appearance on Friday. The question can be stated this way: "What should the U.S. Government do about Castro?" I favor an economic and political quarantine as outlined in my American Legion speech. Specifically you state that "We must attempt to strengthen the non-Batista democratic anti-Castro forces in exile, and in Cuba itself who offer eventual hope of overthrowing Castro. Thus far these fighters for freedom have had virtually no support from our Government." This clearly means, as the New York Times Washington correspondent, James Reston, reported in today's paper: "His statement this week on Cuba, publicly calling for Government aid to overthrow Castro, is a clear violation of the inter-American treaty prohibition against intervention in the internal affairs of the hemisphere Republics."
Thus it is clear that you and I are diametrically opposed on a matter of great public interest and one which the next President may have to deal with as soon as he assumes the office.
It is my firm belief that the course of action proposed by you is recklessly dangerous because-
1. It clearly violates the U.S. Government's solemn commitments to the United Nations and the Organization of American

States not to intervene in the internal affairs of other members of these organizations. It would, in fact, violate a total of five

treaties to which the United States has pledged itself.
2. It would, as we have seen from the immediate response of shock and dismay in Latin America, alienate every one of our

sister American Republics whose friendship you have acknowledged is of vital importance to our efforts against communism.
3. It would give Mr. Khrushchev a valid excuse to intervene in Cuba on the side of the Castro government, saying that the

United States had intervened in violation of its treaty obligations in trying to overthrow the existing government.
4. If this happened, your policy could lead to World War III. Here we have a clear-cut difference of opinion involving policy considerations of the highest importance and involving a decision that the next President may have to make early in his term. The people are entitled to know why each of us holds the views that we do so that they can make an intelligent choice between us.
I will be glad to have my representative meet with yours at any convenient time to discuss possible arrangements for a debate in depth on this subject of paramount importance.
In addition, I believe it would be in the public interest, and the fifth debate would afford a good opportunity, for each of the

vice-presidential candidates to discuss, in turn, his concept of the office to which he aspires and how it might continue to be employed in support of the struggle for peace and freedom. I would suggest that each of the vice-presidential candidates might speak on that subject as a preliminary to our final debate.
Richard Nixon, From the Vice President of the United States to Senator John Kennedy Online by Gerhard Peters and John T. Woolley, The American Presidency Project https://www.presidency.ucsb.edu/node/274152