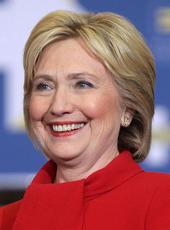 From the Senate: Statement of Senator Hillary Rodham Clinton on International Women's Day
Washington, DC -- More than a decade ago, I had the honor of participating at the United Nations' Fourth World Conference on Women. Today, on International Women's Day, we have the opportunity to once again reaffirm the message that human rights are women's rights, and women's rights are human rights.
There has been much progress made. The number of women in the Senate and House of Representatives has reached an all-time high. According to the United Nations Development Fund for Women, the number of countries that have enacted laws against domestic violence has almost doubled within the past four years. And the Nobel Peace Prize was awarded jointly to the Grameen Bank and its founder, Dr. Muhammad Yunus, in recognition of the impact and importance of microfinance programs, which have helped millions of women and families around the world. But there is still a great deal of work we must undertake to help women achieve equal rights, equal protection, and equal status in their communities.
This year's theme for International Women's Day is "Ending Impunity for Violence Against Women and Girls." The silent epidemic of gender based violence affects far too many women and families, both in the United States and around the world. According to a 2005 study by the World Health Organization, more than 50 percent of women in some countries surveyed reported experiencing physical or sexual abuse at the hands of their partners. The same study found that the majority of women who had experienced intimate partner violence did not seek help, owing not only to stigma and fear, but difficulty accessing the services that would enable them to escape such violence.
Gender-based violence is not only a criminal issue, but a health issue. Women who have experienced domestic violence are at increased risk of contracting HIV. In our efforts to prevent AIDS in the United States and around the world, we need to ensure that women are in position to protect themselves against AIDS without fear of violence or sexual assault.
In addition to intimate partner violence, too many women and girls around the world are vulnerable to other forms of violence. According to the United Nations, situations of armed conflict result in increased number of rapes, sexual violence and slavery for women. In some countries, women who have been raped or sexually assaulted are at risk of being murdered in so-called "honor killings," which only increase the fear and stigma that women face. UNICEF reports that about three million girls experience female genital cutting every year.
But there is hope out there. In the West African countries of Senegal, Burkina Faso, and Guinea, hundreds of communities have pledged to end the practice of female genital cutting. Women who have been subjected to abuse and sexual assault, like Mukhtaran Mai of Pakistan, have turned their tragedies into an opportunity to create positive cultural change. These examples show that we can -- and we must -- bring this violence out of the shadows, and ensure that violence against women is treated as the crime that it is.
I believe that by supporting the brave individuals who stand up and speak out against gender based violence, we can make significant gains in achieving human rights for all women and men. I will work with my colleagues in Congress to support the elimination of violence against women, and help women and girls around the globe live their lives free from the threat of harm.
Hillary Clinton, From the Senate: Statement of Senator Hillary Rodham Clinton on International Women's Day Online by Gerhard Peters and John T. Woolley, The American Presidency Project https://www.presidency.ucsb.edu/node/293658