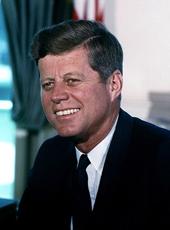 From Press Office: Senator John F. Kennedy, Immigration and Naturalization Laws, Hyannis Inn Motel, Hyannis, MA
Senator John F. Kennedy today pledged that "high priority" would be given by a Democratic administration to the platform plank calling for amendments to the immigration and naturalization laws to ban discrimination based on national origin.
Our Democratic platform specifically states that we must remove the distinctions between native born and naturalized citizens to assure full protection of our laws to all -
the Senator declared.
It points out that the protections provided by due process, right of appeal, and statutes of limitation, can be extended to noncitizens without hampering the security of our Nation. I shall insist that this pledge be given high priority-
Senator Kennedy asserted.
There is no place for second-class citizenship in America.
Senator Kennedy spoke to a group of national leaders of civic and fraternal organizations meeting at his home in Hyannis Port. The group represented Americans of recent immigrant background of 21 national origins.
Gov. G. Mennen Williams (Michigan), chairman of the nationalities division of the Democratic National Committee, attended the meeting along with 38 chairmen of sections of the nationalities division from various States. Also attending the meeting were Representatives Thaddeus Machrowicz (Michigan), and Henry S. Reuss (Wisconsin), and Mayor E. F. Voorde (Indiana), nationalities division members.
Stephen J. Jarema, executive chairman of the Ukrainian Congress Committee was chosen to present to Senator Kennedy the group's opinions on immigration matters. He praised the ideas expressed in the Democratic platform and stressed the importance of putting these ideas into practice. He further pointed out that in March of this year President Eisenhower presented to Congress a recommendation for the establishment of a new quota system which would create a new classification of "Soviet citizen" for all people coming from the U.S.S.R. "This," Jarema said, "would in effect officially put our governmental stamp of approval on Russian Communist conquests and would undermine the struggle for in dependence on the part of the captive nations." Jarema also pointed out that it was Vice President Nixon's tie-breaking vote in 1952 that overrode President Truman's veto of the discriminatory McCarren-Walters Act on immigration while Senator Kennedy strongly fought to sustain the veto.
The U.S. Congress, under Democratic leadership, has taken the initial steps toward liberalizing changes in immigration law, Senator Kennedy told the group.
We must carry forward this program in accordance with our platform to assure that no naturalized citizen will suffer discrimination because of legal disabilities.
In discussing the plight of the people of captive nations, Senator Kennedy said:
We look forward to the day when the people of these nations will stand again in freedom and justice. Under Democratic leadership, we will carry out our platform pledge to hasten by every honorable and responsible means the arrival of that day. Our platform pledges that we will not abandon peoples who are now behind the Iron Curtain through any formal approval of the status quo.
There is no magic program or slogan to achieve our objective- the Senator said.
There is only hard work and it can and must be done. We must use America's economic and political power and her leadership in the United Nations as the effective tools of policy.
Senator Kennedy continued:
The Democratic platform speaks my own mind on this subject when it declares: "We will never surrender positions which are essential to the defense of freedom nor will we abandon people who are now behind the iron Curtain through any formal approval of the status quo."
Senator Kennedy called attention to two other platform pledges of special interest to the group:
First there is the pledge to establish a Federal bureau on intergroup relations. This can be of tremendous assistance in preventing discrimination based on national origin or race in the areas of housing, education, jobs, and the realization of full opportunities in every American community. Second, our platform encourages the study of foreign languages in the United States. Americans with direct personal knowledge of the cultures and the contributions of other freedom-loving countries can best understand our goal of peace with justice in the world.
In addition to Mr. Jarema, the Ukrainian section was represented by the following:

Mr. Anton Batiuk, president of the Ukrainian Workingman's Association; Mr. Joseph Lesawyer, national vice president of the Ukrainian National Association; Mrs. Mary Sypian, chairman, Ukrainian-Citizens Group of Rochester, N.Y.; and Mr. Walter Klawsnik, executive board, Ukrainian American Veterans.
John F. Kennedy, From Press Office: Senator John F. Kennedy, Immigration and Naturalization Laws, Hyannis Inn Motel, Hyannis, MA Online by Gerhard Peters and John T. Woolley, The American Presidency Project https://www.presidency.ucsb.edu/node/274470