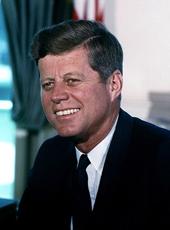 From Press Office: Senator John F. Kennedy, Immigration and Naturalization Laws, Hyannis Inn Motel, Hyannis, MA
Senator John F. Kennedy today pledged that "high priority" would be given by a Democratic administration to the platform plank calling for amendments to the immigration and naturalization laws to ban discrimination based on national Origin.
Our Democratic platform specifically states that we must remove the distinctions between native-born and naturalized citizens to assure full protection of our laws to all-
the Senator said.
It points out that the protections provided by due process, right of appeal, and statutes of limitation, can be extended to noncitizens without hampering the security of our Nation. I shall insist that this pledge be given high priority-
Senator Kennedy asserted.
There is no place for second-class citizenship in America.
Senator Kennedy spoke to a group of national leaders of civic and fraternal organizations meeting at his home in Hyannis Port. The group represented Americans of recent immigrant background of 21 national origins.
The whole civilized world is deeply indebted to Greece, not only for the great contributions she has made in all fields of human endeavor, but especially because of the invaluable assistance which Greece gave to the United States and the whole free world during World War II and immediately thereafter, when the Communist conspiracy sought to subjugate the indomitable Greek people-
Kennedy declared in a special message to the Hellenic communities of America.
Senator Kennedy continued:
The Democratic Party is deeply conscious of the many significant contributions which Americans of Hellenic descent throughout the length and breadth of the United States have made and are making today to our democratic institutions and our American way of life. They have been constant and steadfast in their dedication to our great principles of liberty and freedom, those priceless legacies which they have inherited from their illustrious ancestors.

I am honored and delighted to count among my closest friends many Americans of Hellenic descent.

It was the ancient Greeks who first invented and practiced democracy in the unequaled Athens of Pericles. Their descendants are serving America with distinction and great credit in the arena of politics and governmental service whenever opportunity to do so is given to them.
Gov. G. Mennen Williams (Michigan), chairman of the nationalities division of the Democratic National Committee, attended the meeting along with 38 chairmen of sections of the nationalities division from various States. Also attending the meeting were Representatives Thaddeus Machrowicz (Michigan), Henry S. Reuss (Wisconsin), and Mayor E. F. Voorde (Indiana), nationalities division members.
Among the delegates conferring with Senator Kennedy today was Gregory G. Lagakos, of Philadelphia, American Hellenic Educational Progressive Association (AHEPA).
John F. Kennedy, From Press Office: Senator John F. Kennedy, Immigration and Naturalization Laws, Hyannis Inn Motel, Hyannis, MA Online by Gerhard Peters and John T. Woolley, The American Presidency Project https://www.presidency.ucsb.edu/node/274478