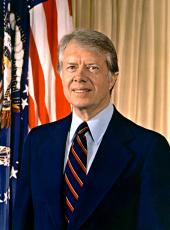 Fort Wayne, Indiana Remarks and a Question-and-Answer Session With Reporters Following a Visit With Vernon E. Jordan, Jr.
THE PRESIDENT. I'm very pleased, on behalf of myself, my family, and all the people of this Nation, to come here to Indiana to find Vernon Jordan doing so well.
I've talked several times on the telephone with Dr. Towles and with Shirley Jordan, the wife of Vernon, to get progress reports. But today, again, I've been given a very accurate report from his own physicians that he's recovering well. His strength and his good health, his athletic attitude and ability have stood him in good stead, along with the prayers of tens of thousands of people who believe in Vernon and who admire him very much and who've been concerned about him, and also, of course, the excellent care that he's gotten here in this superb hospital facility.
I've also had a chance to meet with the mayor, with the police officials from the local government, and with the director of the FBI regional headquarters here in Fort Bend [Wayne], and I think it's very good to point out that we have excellent cooperation and that they are getting along well with each other. The local officials are very grateful that the FBI is involved in the investigation of the case, and I'm not going to comment on the progress of the investigation except to point to you that there is nothing in their relationship except one of mutual appreciation and the very closest possible cooperation.
The mayor of Fort Wayne and others have done a superb job in making all the local officials available in this heavy burden on the community. And the attitude of the people along the highway as I came in from the airport was one of friendship and encouragement, which shows the deep concern of the people about this unfortunate incident and the hope that Vernon Jordan will do well and recover completely, which is a high prospect now, and that the perpetrators of this crime will be brought to justice.
It's obvious that what Vernon Jordan stands for is courage. His commitment to the plight of the poor and deprived people of all races has been appreciated by this Nation, and as President, I want to add my personal appreciation for what he has meant for our country and what he will continue to mean in the years ahead. Mr. Mayor, would you like to add any words?

MAYOR MOSES. That's fine.
REPORTER. Mr. President, what did you and Mr. Jordan talk about, even though you talked only very briefly?
THE PRESIDENT. We talked about the necessity for him to carry out the doctor's orders and directions. He gave me a report that he's getting along well, that he has received indirectly an outpouring of expressions of support and friendship and prayers from throughout the country. He has now been permitted to watch television. He can't have visitors outside of just myself and a few others in his family. He's not yet begun to read newspapers and so forth, but he will, I understand, tomorrow. And he, of course, doesn't have a telephone in his room. But he's interested in the continued progress of the Urban League while he is incapacitated, has complete confidence it will be done.
He primarily expressed his thanks to me for the outpouring of support and help for him and his family that has been exhibited here in Fort Wayne and throughout the State of Indiana and, indeed, the country.
Q. Mr. President, do you think this was a conspiracy?
THE PRESIDENT. I don't have any information that I want to divulge concerning the criminal investigation. I think that's best described by the legal officials.
Q. Well, Mr. President, you called this, the other day, an attempted assassination.
THE PRESIDENT. Yes.
Q. What does that word mean to you? Does it mean political? Does it rule out personal motives? What did you mean by that?
THE PRESIDENT. Well, after I got home, I looked it up in the dictionary— [laughter] —because some question had been raised by the press. It said, "the attempted murder of a prominent person," and this is all I meant. I was not trying to define the nature of the crime except that a prominent person was the subject of an attack.
Q. You weren't referring to motives at all?
THE PRESIDENT. I have no way to know what the motive is.
Q. Mr. President, you just said that you hoped that the perpetrators are brought to justice. You used the word plural. Does that reflect a belief by the Justice Department that there's still a feeling that there may be more than one person involved?
THE PRESIDENT. No, I was not trying to determine how many there might be-one or more.
Q. Mr. President, Vernon Jordan always travels alone, without security, because that's the American way. He wanted to be able to do that. Did you give him any advice to the contrary, or does he feel he's wrong? And also, is there any national, coordinated efforts to protect civil rights leaders right now?
THE PRESIDENT. No, there is no national, coordinated effort to protect prominent people who are active in the civil rights movement. This, I don't believe, is necessary now. Those people who are prominent and also courageous in dealing with controversial issues are always a possible subject of attack, but this is something I've not discussed with Vernon, as far as providing help or protection for other civil rights leaders. I don't think it's necessary at this time.
Q. Mr. President, is there anything you view about the circumstances of the shooting, what happened? Did he discuss the shooting—[inaudible]?
THE PRESIDENT. Just very briefly. Well, he just—I think the only comment that he made was that with people who are involved in public life, like he has been, that the possibility of an attack is something that one has to understand and accept, that the alternative is a withdrawal of one's service, that it was a danger that he was willing to accommodate in his own life, and that he was very thankful that the attack was not successful.
Q. Mr. President, do you think that this was in any way related to the events in Miami?
THE PRESIDENT. I don't have any reason to think that there is a relationship.
Q. Mr. President, 8 hours before the shooting Mr. Jordan gave local reporters here the impression that he was for challenging leaders in this country for trying to address problems, mainly domestic problems. Was there any mention of any assurances that you might try to give him if there would be another 4 years of your administration?
THE PRESIDENT. No, we didn't discuss that, but I observe very carefully Vernon's statements. I've known him for a long time. When he was in charge of voter registration in the southeastern region of our country, he was living in Atlanta. I was a State senator then. Vernon was planning to run for Congress from the Fifth District in Georgia; I was planning to run for Governor. We both wound up with different positions later on. And Vernon has sometimes been a very severe critic of policies of the Federal Government, actions of the Congress, actions by me, or failure to move rapidly enough to alleviate the concerns of the poor people about whom he's concerned. But, at the same time, we've always maintained our friendship. And I'm familiar with Vernon's speeches, the major thrust of them. I listen to them very carefully.

When I've made decisions in my own administration, as President, concerning urban areas or housing or education or the provision of jobs for the poor or welfare programs, care for the aged, I've almost invariably called Vernon in to give me his advice and his counsel and, hopefully, his support if the program that we evolved met with his approval. And I've done this with just a few other leaders in the country. I've done this because of the position he holds, because of my confidence in his judgment, and also because of a personal friendship.
Q. Do you agree with other leaders, particularly black leaders, who have said that this—they hope this incident will be a little more of an impetus to do more for—[inaudible]?
THE PRESIDENT. This is obviously a time for us to recommit ourselves to the protection of the poor and minority groups, those who suffer in time of recession or in time of extremely high interest rates and inflation rates. The riots in Miami, this attack on Vernon Jordan-although I don't have any reason to think they are directly related—are certainly a reminder that we need to redouble our efforts to alleviate the problems of people of all races, in all locations in our country, who are suffering from economic deprivation or some kind of social or legal justice deprivation.
So, obviously it's a reminder, but I don't see that it's directly related to what we are doing. I'm trying to protect the domestic allocation of funds for jobs and for housing and for health and education in the budget dispute with the Congress right now, and I know that in this particular dispute, Vernon Jordan and what he stands for would be a major ally. But we did not discuss the particular programs in my brief visit with him.

Thank you very much.
Note: The President spoke at 5:22 p.m. at the Fort Wayne Hospital after visiting Mr. Jordan in his hospital room.
Jimmy Carter, Fort Wayne, Indiana Remarks and a Question-and-Answer Session With Reporters Following a Visit With Vernon E. Jordan, Jr. Online by Gerhard Peters and John T. Woolley, The American Presidency Project https://www.presidency.ucsb.edu/node/250949