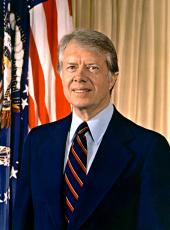 Fort Benning, Georgia Informal Exchange With Reporters on Arrival at Lawson Army Airfield.
Q. I hope you found your grandchild real well.
THE PRESIDENT. She was very well. We are proud of her.
Q. Good.
THE PRESIDENT. It makes a good Christmas for us.
Q. Fine.
Q. Do we have a SALT treaty?
THE PRESIDENT. We don't know yet. They were still negotiating when the thing broke up last night in Geneva, and I think we will find out today one way or the other.
Q. Does it look hopeful? Are you encouraged?
THE PRESIDENT. It looks hopeful, but there are still some very difficult issues to be resolved. And I am hopeful, yes, but no certainty yet.
Q. Thank you for coming by.
THE PRESIDENT. Thank you, everybody.
Q. Thank you for coming by. Good luck to you. Merry Christmas.
THE PRESIDENT. You have always been so nice to us.
THE PRESIDENT. I had a good night last night—
Q. Good. I know you have been in pain.
THE PRESIDENT. —with the treatment.
Q. Described as miserable.
THE PRESIDENT. It was.
Q. Are you going to have a chitchat with the townspeople in Plains at all?
THE PRESIDENT. I am going very carefully, yes. Yesterday was horrible. I will see how I feel in the morning.
Q. Is there a possibility you are going to have surgery?
THE PRESIDENT. I don't think there is—there is always a possibility, but I think that threat is over. Last night it was a pretty sure thing, but this morning, I was better. I think my prayers were answered. I have gotten advice from everybody in the United States. [Laughter]
Q. I'll bet.
Note: The exchange began at approximately 8 p.m. Following his remarks, the President went to his home in Plains, Ga.
As printed above, the item follows the White House press release.
Jimmy Carter, Fort Benning, Georgia Informal Exchange With Reporters on Arrival at Lawson Army Airfield. Online by Gerhard Peters and John T. Woolley, The American Presidency Project https://www.presidency.ucsb.edu/node/244369