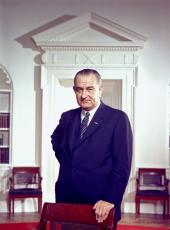 Filmed Message to Delegates of the Third International Conference on the Peaceful Uses of Atomic Energy.
I WOULD like to extend my best wishes to all the delegates at this Third International Conference on the Peaceful Uses of Atomic Energy.
A great challenge confronts you. You can hasten the day when the atom will be harnessed to hard labor for man's welfare. You can reduce the risk that the atom will be used for man's destruction.
We stand at the threshold of the age of nuclear power but whether nuclear power will meet our needs tomorrow depends on our work and our wisdom today.
In the United States we have been working and learning. We have now learned how to build large-scale reactors whose electric power will be economically competitive in many parts of our country and the world.
Our utility companies now aim to build or purchase reactors producing electricity at between 4 and 6 mils per kilowatt hour. This achievement has come from 15 years of concentrated research and development. The United States Government has spent more than $1,600 million on this effort. American private enterprise has spent an additional $500 million. These expenditures are an investment of our people, an investment in the future of all mankind.
Through our Government and through private enterprise we are prepared to use this vast new technology to help other countries meet their energy needs.
At present the large-scale reactor offers the best hope of economic production of electricity. Not every country and not every community can use this large size, but our rapid rate of progress should soon lead to economic production in smaller reactors, too.
A further application of nuclear energy will be large-scale desalting of water. The time is coming when a single desalting plant powered by nuclear energy will produce hundreds of millions of gallons of fresh water and large amounts of electricity every day.
Our Government is proceeding with an aggressive program of nuclear desalting. What we learn in this program will be shared with other nations. Already we have begun cooperative exchanges with Mexico, with Israel, and with the Soviet Union.
Today I invite all of you to join with us in this enterprise. As we move ahead we look to the International Atomic Energy Agency to play an ever larger role in these peaceful efforts. Already it has set standards for the care and for the keeping of nuclear materials. This achievement has raised our hopes for a workable system of world law on nuclear energy.
For almost 20 years we have known the atom's terror as a weapon of war. Today we begin to know its hope as a powerhouse of peace.
Today at last we really have good reason for believing that the atom can be made the servant and not the scourge of mankind.
Note: The message was filmed on August 22 in the Cabinet Room at the White House. The film was shown at the opening of the U.S. Technical Exhibit in Geneva on August 30. It was viewed by Secretary General U Thant of the United Nations, and some 3,000 scientists and engineers from 71 countries who had gathered in Geneva for the Third United Nations International Conference on the Peaceful Uses of Atomic Energy, held August 31-September 9.
The Chairman of the U.S. Atomic Energy Commission, Glenn T. Seaborg, headed the U.S. delegation to the conference. Other U.S. delegates are listed in the Department of State Bulletin (vol. 51, p. 412).
Lyndon B. Johnson, Filmed Message to Delegates of the Third International Conference on the Peaceful Uses of Atomic Energy. Online by Gerhard Peters and John T. Woolley, The American Presidency Project https://www.presidency.ucsb.edu/node/241744