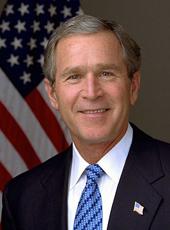 Fact Sheet: White House 2003 Easter Egg Roll Frequently Asked Questions
Q. How long has this event been a White House tradition?

A. President Rutherford B. Hayes officially opened the White House grounds to local children for egg rolling on Easter Monday 1878. Successive Presidents continued the tradition, and the event has been held on the South Lawn ever since. The event has been canceled or moved on occasion only due to poor weather conditions and during World War I and World War II.
Q. Is this event open to the public?

A. The 2003 Annual White House Easter Egg Roll will recognize and honor active duty and reserve military service members and their families. This is a special opportunity to pay tribute to the U.S. Armed Forces and an opportunity for them to share the day here at the White House with their families.
Q. How many people will attend the event?

A. Tickets to this year's event will be distributed exclusively to military families through the Department of Defense. Attendance at this year's Easter Egg Roll is expected to be 12,000.
Q. What kinds of activities will guests participate in?

A. Easter Egg Roll activities begin on the Ellipse with food and entertainment. On the White House South Lawn, children ages 8 or younger can take part in the egg roll. Children of all ages can enjoy the reading corners, egg coloring, art activities, music and several stage shows featuring Jeff Corwin and characters from children's educational programming. Strolling characters will greet children as they roam the South Lawn, and the Springtime Traditions area will teach children about other cultures and countries. At the reading corners, visitors will be treated to storytelling by authors such as Mrs. Lynne Cheney, Cabinet members and other senior administration officials.
Q. Who dyes the eggs? How many are dyed?

A. Approximately 5,400 real eggs were decorated by the American Egg Board for the annual tradition. An additional 3,600 were boiled and will be colored by children during the Easter Egg Roll.
Q. Who designed the art for the commemorative egg? How many are produced?

A. Eric Carle, author and illustrator of works such as The Very Hungry Caterpillar, from Northampton, MA, designed this year's wooden egg as well as the commemorative egg roll poster. Keepsake Easter Eggs will be given to each child as they depart the White House.
Q. What will Children receive upon departure from the Easter Egg Roll?

A.
A commemorative White House wooden Easter egg
An activity and coloring book
A White House bookmark
A children's book Easter Egg Roll poster
Q. Who are the guest readers and What will they read?

A.
Mrs. Lynne Cheney; America: A Patriotic Primer
Secretary of Energy Spencer Abraham; The Night Before Easter
Secretary of Labor Elaine Chao; Happy Easter, Davy!
Secretary of Commerce Don Evans; The Very Hungry Caterpillar
Secretary of Housing and Urban Development Mel Martinez; The Little Red Rabbit that Wanted Red Wings
Secretary of Agriculture Ann Veneman; Corduroy's Easter
Administrator, Environmental Protection Agency Christie Todd Whitman; Will You Be My Friend?
Secretary Andrew Card; If You Give a Mouse a Cookie
Rev. Kathleene Card; Guess How Much I Love You?
Deputy Chief of Staff Joshua Bolten; Horton Hatches the Egg
Assistant to the President Margaret Spellings; My Friend Rabbit
Deputy Assistant to the President Brad Blakeman; Officer Buckle and Gloria
Q. Which authors are reading on the South Lawn?

A.
Steven Kellogg, from Essex, NY; The Island of the Skog
Janet Wong, from Medina, WA; Apple Pie 4th of July
Jim & Kate McMullan, from New York City, NY; I Stink! and I'm Mighty
Jane Dyer, from Northhampton, MA; The Little Brown Bear Won't Take a Nap!
Susan Meddaugh, from Sherborn, MA; Martha Speaks and Harry on the Rocks
Q. Who are the presenters and What are the performances?

A.
Animal Planet's Jeff Corwin & Dr. Robert Taylor
Barney & Friends
Bear in the Big Blue House
Circle of Friends: An American Girls Musical
Ringling Brothers and Barnum & Bailey Circus Clowns
The Pro-Kids Show with Ralph the Great (Ralph Metzler)
Flumpa & Friends Live
Phil Baker
Pamlico Joe (Jim Swinson)
5 A Day the Color Way - an interactive way for children to learn about the importance of eating a variety of colorful fruits and vegetables and being active
USA YoYo Extravaganza Silly Socks Puppet Theater PBS Kids
Ballet Petite
Strolling Magicians - featuring Dr. Eldoonie, Dean Allen, Brigitte Sills, Robert Tobias, Allen Cleveland, Tim Hannig, Eric Henning, Richard Humston, Laurence Lipman, Miranda Miller, Noland Montgomery, James Munton, Eric Wolf, The Great Zucchini, Mikael Manoukian
Q. Who are the Popular Children's characters on the South Lawn?

A.
The Official White House Easter Rabbit
Arthur
Dora the Explorer
Peter Rabbit
Angelina Ballerina
Clifford the Big Red Dog
Ord
Spot
Patchy Panda
Feathers the Duck
Terrance the Turtle
Woodrow the White House Mouse
Cotton the Bunny
Sagwa
Zoboomafoo
Leona
Caillou
Anne of Green Gables
Berenstain Bears
Bookworm
Nutbrown Hare
Maisy
Digit
George Shrinks
Zoe
Timothy
The Very Hungry Caterpillar
Bob and Larry from VeggieTales
Stanley
Olie
Zowie
Pinkerton
Madeline
Strawberry Shortcake
Winnie-the-Pooh
Dora the Explorer
Chuckie
Q. What is Springtime Traditions?

A. Springtime Traditions is an opportunity for people around the world to share the spring traditions of their homelands through displays, dress, toys and games. This event will have its own area on the South Lawn where Easter Egg Roll participants may view the exhibit and ask questions about the countries from Embassy representatives and children.
Q. What Countries are participating in Springtime Traditions?

A.
Afghanistan
Argentina
Armenia
Azerbaijan
Bulgaria
Canada
India
Israel
Madagascar
Norway
Swaziland
The Philippines
For more information, please visit the White House Web Site at WWW.WHITEHOUSE.GOV.
George W. Bush, Fact Sheet: White House 2003 Easter Egg Roll Frequently Asked Questions Online by Gerhard Peters and John T. Woolley, The American Presidency Project https://www.presidency.ucsb.edu/node/280767