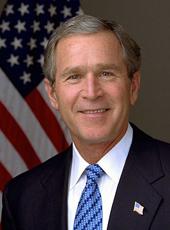 Fact Sheet on U.S.-Mexican Relations
U.S.-Mexican Relations
"Our nations are bound together by ties of history, family, values, commerce and culture. Today these ties give us an unprecedented opportunity. We have a chance to build a partnership that will improve the lives of citizens of both nations."
President George W. Bush

February 16, 2001
The United States and Mexico enjoy close and cordial bilateral relations that cover an unprecedented range of issues and engage a wide range of participants in government, the private sector and civil society. At the federal government level, U.S.-Mexico relations are coordinated by the Binational Commission (BNC). The BNC is a unique forum that allows for regular exchanges at the cabinet level on a wide range of issues that are critical to the bilateral relationship.
This year, a streamlined and reorganized BNC will meet on September 4, immediately preceding the State Visit by Mexican President Vicente Fox. On September 6, at a joint Cabinet meeting, the results of the BNC sessions will be briefed to the two Presidents. This year, the U.S. and Mexico will have held working group sessions on a wide range of bilateral topics, including agriculture, border affairs, science and technology, education and cultural affairs, energy, environment, financial issues, health, housing, labor, legal affairs, migration, trade, investment and transportation.
Several other separate bilateral organizations deal with the U.S.-Mexico border, including a commission of the border governors and organizations devoted to health, the environment, water and border crossings. The U.S. and Mexico consult closely on improving the safety of the border and improving the orderly flow of legal migration. Over one million people cross our common border every day.
Trade relations with Mexico have blossomed under NAFTA, with Mexico becoming the second largest trading partner of the U.S., second only to Canada ? the other NAFTA partner. Total trade between the U.S. and Mexico reached over $260 billion in 2000. Law enforcement cooperation remains a high priority of the two nations and is an area where we have seen steady progress.
President Bush and President Fox have held meetings on four previous occasions:
-- Bilateral on February 16 in Guanajuato;
-- Bilateral on April 21 in Quebec City;
-- Trilateral, with Canadian Prime Minister Chretien, on April 22 in
Quebec City; and
-- Bilateral on May 3 at the White House.
The State Visit of President Fox will mark the fifth meeting between the two leaders.
George W. Bush, Fact Sheet on U.S.-Mexican Relations Online by Gerhard Peters and John T. Woolley, The American Presidency Project https://www.presidency.ucsb.edu/node/280093