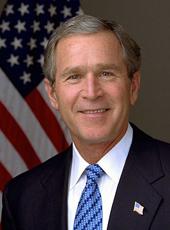 Fact Sheet: U.S. Leadership on Global Fund to Fight HIV/AIDS, Malaria and Tuberculosis
"The devastation across the globe left by AIDS, malaria, and tuberculosis, the sheer number of those infected and dying is almost beyond comprehension. We have the power to help. The United States is committed to working with other nations to reduce suffering and to spare lives."
--President George W. Bush May 11, 2001
"I believe today will be remembered as the day we begin to turn the tide."
--UN Secretary-General Kofi Annan May 11, 2001
The Tragedy of HIV/AIDS and Infectious Diseases: Collectively, HIV/AIDS, malaria, and tuberculosis are ravaging developing countries, causing 25 percent of all deaths in these nations worldwide:
36 million people are now living with HIV/AIDS.
70 percent of these people live in sub-Saharan Africa, where HIV/AIDS is now the leading cause of death.
Tuberculosis accounted for 1.7 million deaths last year.
Malaria killed more than 1 million people -- mostly children in Africa.
U.S. Leadership: On May 11, 2001, the President, accompanied by UN Secretary-General Kofi Annan and Nigerian President Obasanjo, both of whom are attending the Genoa Summit, declared U.S. support for a global fund to fight the AIDS pandemic. To ensure its effectiveness, he called for a fund that:
Is based on a public-private partnership, including not only governments, but private corporations, foundations, faith-based groups and nongovernmental organizations;
Promotes an integrated approach, emphasizing prevention in a continuum of treatment and care;
Operates according to principles of proven scientific and medical accountability;
Focuses on "best practices" proven to work in the field;
Involves developing countries in the design and operation of the fund to ensure ownership and commitment to results; and
Ensures respect for strong intellectual property rights as a spur to research and development on life-saving medicines.
The President also announced that the United States would be the first nation to make a commitment to the fund -- with a first-year founding contribution of $200 million.
Today's G-8 Action: The G-8 has been working hard to make the concept of a fund a reality. Today in Genoa, the G-8 Leaders and the UN Secretary-General formally launched the new global fund to fight HIV/AIDS, malaria, and tuberculosis. The fund follows the structure and principles set out by President Bush in May. Importantly, the G-8 Leaders committed to making the fund operational by January 1, 2002:
They announced the establishment of a start-up team and secretariat, which the U.S. will help manage and fund with an additional $1 million; and
They announced total contributions from G-8 donors, non-G-8 donors, and the private sector of $---- billion.
The U.S. Commitment to Fighting HIV/AIDS Worldwide: The United States has been a leader in the global fight against HIV/AIDS, malaria, and tuberculosis:
The U.S. is the largest bilateral donor of HIV/AIDS assistance, providing nearly $1 billion annually, or half of all international HIV/AIDS funding and twice as much as the next largest donor.
In addition, the President's FY02 budget dedicates $10.2 billion for the fight against HIV/AIDS, including HIV/AIDS research.
In April, President Bush expanded the mandate of the Office of National AIDS Policy (ONAP) to better promote and coordinate domestic and international policy efforts on HIV/AIDS. ONAP is supporting a high-level task force -- co-chaired by the Secretary of Sate and the Secretary of Health and Human Services -- to coordinate the Administration's activities and responses to all aspects of the domestic and international HIV/AIDS crisis.
George W. Bush, Fact Sheet: U.S. Leadership on Global Fund to Fight HIV/AIDS, Malaria and Tuberculosis Online by Gerhard Peters and John T. Woolley, The American Presidency Project https://www.presidency.ucsb.edu/node/279726