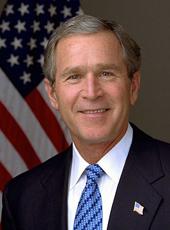 Fact Sheet: U.S.-EU Summit: Fighting the Challenge of the HIV/AIDS Epidemic
"HIV/AIDS is one of the greatest medical challenges of our time. The disease has killed more than 20 million people. Today, 42 million more are living with HIV."
President George W. Bush

May 27, 2003
In recognition of the extent of the crisis and of our joint commitment to fighting HIV/AIDS and other communicable diseases, we are determined to further strengthen cooperation between the European Union and the United States. Today, the United States and the European Union reaffirmed their commitment to combat AIDS, pledging to:
Support the U.N. Declaration of Commitment on HIV/AIDS; Ensure resources from the Global Fund for AIDS, Malaria, and Tuberculosis are available to countries most severely affected by the disease; Cooperate on formally amending WTO rules in accordance with our groundbreaking agreement on intellectual property rights and public health; Support and accelerate the development of vaccines and technologies to prevent the spread of HIV/AIDS and other communicable diseases; and Work to promote donor coordination and civil society and private involvement in the fight against AIDS.
President Bush is leading a global effort to combat the HIV/AIDS pandemic through his historic $15 billion Emergency Plan for AIDS Relief and his commitment to the Global Fund to Fight AIDS, Tuberculosis, and Malaria, to which the United States has pledged more than $1.96 billion, or 36 percent of all pledges through 2008.
On June 10, 2004, President Bush and his G-8 counterparts endorsed the establishment of a Global HIV Vaccine Enterprise, a virtual consortium to accelerate HIV vaccine development by enhancing coordination, information sharing, and collaboration globally.
President Bush announced plans to establish a new U.S. Vaccine Research & Development Center, in addition to the one at the United States National Institutes of Health. The new center will become a key component of the Global HIV Vaccine Enterprise. The United States is investing $488 million in HIV vaccine development in FY2004, and has requested $533 million in FY2005.
George W. Bush, Fact Sheet: U.S.-EU Summit: Fighting the Challenge of the HIV/AIDS Epidemic Online by Gerhard Peters and John T. Woolley, The American Presidency Project https://www.presidency.ucsb.edu/node/281961