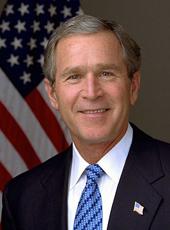 Fact Sheet: U.S.-EU Summit: Cooperation on the Development of the Hydrogen Economy
"With a new national commitment, our scientists and engineers will overcome obstacles to taking these [hydrogen-powered] cars from laboratory to showroom so that the first car driven by a child born today could be powered by hydrogen, and pollution-free."
President George W. Bush

January 28, 2003
President Bush and his EU counterparts welcomed and encouraged the collaboration between the United States and the European Union on accelerating development of the global hydrogen economy, which will enhance security of energy supply, increase diversity of energy resources, promote economic growth and job creation, and improve local and global environmental quality.
This U.S.-EU collaboration is helping to advance President Bush's goal that the first car driven by a child born today could be powered by hydrogen fuel cells, and is a natural extension of the President's $1.2 billion Hydrogen Fuel Initiative.
This U.S.-EU collaboration was launched at the 2003 U.S.-EU Summit, and has led to a series of meetings on both sides of the Atlantic to advance hydrogen research and technology development and the establishment of harmonized codes, standards, and regulations. Together, the United States and the European Union have:
Increased coordination of our approaches to hydrogen research, helping to guarantee that research efforts are focused and complementary and make the best use of our facilities and the most effective scientific methods;
Identified targeted areas of cooperation including fuel cell development, hydrogen storage, hydrogen production, and the necessary codes and standards to support these applications;
Committed United States' and the European Union's resources to advance research in critical areas such as high-temperature membranes and catalysts for improved fuel cell cost and durability;
Identified model demonstration programs showing the value of public applications of hydrogen;
Shared lessons from municipal hydrogen-powered bus demonstrations in San Diego, California and Brussels, Belgium; and
Explored collaborative applications of new safety techniques for handling hydrogen in transportation applications in America and Europe.
This transatlantic cooperation is intended to support the International Partnership for the Hydrogen Economy (IPHE), which held its inaugural meeting in Washington, D.C., in November 2003. The IPHE has helped launch international cooperation on research for high-temperature membranes used in fuel cells, hydrogen storage materials, and renewable hydrogen production. The IPHE combines financial and intellectual resources in a global effort to overcome the remaining obstacles to the commercial adoption and trade of hydrogen technology worldwide. These include finding means to bring consumer costs to a level competitive with other energy sources and to build the infrastructure needed to produce, transport, and safely handle hydrogen and hydrogen-based fuel cells.
George W. Bush, Fact Sheet: U.S.-EU Summit: Cooperation on the Development of the Hydrogen Economy Online by Gerhard Peters and John T. Woolley, The American Presidency Project https://www.presidency.ucsb.edu/node/281875