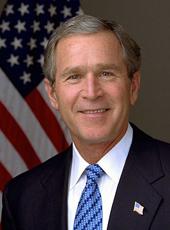 Fact Sheet: U.S. Actions at G8 Summit, Day One
"We believe that the ultimate answer to hatred is hope. As we fight the forces of terror, we must also change the conditions in which terror can take root. Terrorism is often bred in failing states - so we must help nations in crisis build a civil society of free institutions. The ideology of terror takes hold in an atmosphere of resentment and hopelessness - so we must help men and women around the world to build lives of purpose and dignity. In the long term, we add to our security by helping to spread freedom and alleviate suffering. And this sets a broad agenda for nations on both sides of the Atlantic."
President George W. Bush

May 31, 2003
Presidential Action
President Bush came to the G-8 Summit in Evian, France to encourage cooperative G-8 action on key global priorities: spurring economic growth; combating terrorism; preventing the proliferation of weapons of mass destruction; and promoting prosperity in the developing world.
On the first day of the Summit, President Bush met with the G-8 Leaders and the leaders of over a dozen other developed and developing nations, including those of the New Partnership for African Development, and urged increased cooperation on development assistance, HIV/AIDS, famine, and trade.
Ensuring Effective Development Assistance: President Bush emphasized the importance of ensuring real results by linking increased development assistance to sound policies. This linkage is the foundation of the President's Millennium Challenge Account (MCA) initiative. The MCA will promote economic growth and poverty alleviation by rewarding developing countries that govern justly, invest in the health and education of their people, and encourage economic freedom. President Bush has requested $1.3 billion in MCA funding for FY 2004, which will ramp up to $5 billion annually by FY 2006.
Combating the HIV/AIDS Pandemic: President Bush highlighted recent congressional enactment of his 5-year, $15 billion Emergency Plan for AIDS Relief, which triples U.S. spending on combating HIV/AIDS. The President urged other G-8 Leaders to make a similar commitment.
The Plan targets the 14 most afflicted countries in Africa and the Caribbean and is intended to:
Prevent 7 million new infections;
Treat 2 million HIV-infected people; and
Care for 10 million HIV-infected people and AIDS orphans.
The Plan also pledges $1 billion over five years to the Global Fund to Fight AIDS, Tuberculosis and Malaria, which raises the total U.S. contribution to $1.625 billion, seven times greater than that of the next largest donor.
Providing Famine Relief: President Bush called for urgent action to address famine. Thirty-eight million people are at risk of famine in Sub-Saharan Africa, with over 15 million in Eritrea and Ethiopia alone. Sub-Saharan Africa faces an estimated 1.2 million metric ton food shortfall.
The United States is the world's leading donor to the UN World Food Program , providing more emergency food assistance than all other donors combined. Total U.S. emergency assistance could reach $1.4 billion in FY 2004, including a new $200 million Famine Fund to channel emergency relief at the first signs of famine. President Bush urged his European partners to reconsider policies that discourage African farmers from using safe biotechnology to increase agricultural productivity.
Increasing Trade: President Bush called on all countries to contribute to the goal of opening global markets and increasing prosperity through free trade. The President urged the Leaders to give new impetus to the Doha WTO trade negotiations. The United States has tabled ambitious, market-opening proposals in these negotiations focused on three areas:
Agriculture: Eliminating agricultural export subsidies and significantly reducing tariffs and trade-distorting domestic supports.
Goods: Eliminating all tariffs on consumer and industrial goods by 2015, as well as eliminating non-tariff barriers.
Services: Expanding global market access in services, including banking, insurance, telecommunications, environment, energy, and express delivery.
President Bush stressed the importance of trade -- including intra-regional trade -- for Sub-Saharan Africa's development. Of Sub-Saharan Africa's major trading partners, only the United States increased its share of Sub-Saharan exports from 1996 to 2001.
(For more information on U.S. development initiatives go to www.whitehouse.gov/g8).
George W. Bush, Fact Sheet: U.S. Actions at G8 Summit, Day One Online by Gerhard Peters and John T. Woolley, The American Presidency Project https://www.presidency.ucsb.edu/node/281299