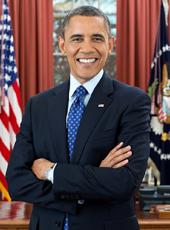 Fact Sheet: United States Support for Global Efforts to Combat Carbon Pollution and Build Resilience
Today, President Obama is announcing the intention of the United States to contribute $3 billion to the Green Climate Fund (GCF), reflecting the U.S. commitment to reduce carbon pollution and strengthen resilience in developing countries, especially the poorest and most vulnerable. The United States joins other nations that have already pledged financial support to this vital new global effort, including Mexico, Korea, Germany, France, Denmark, Norway, and Switzerland. Additional countries are expected to pledge soon.
By financing investments that help countries reduce carbon pollution and strengthen resilience to climate change, the GCF will help leverage public and private finance to avoid some of the most catastrophic risks of climate change. By reducing those risks, the GCF will help promote smart, sustainable long-term economic growth and preserve stability and security in fragile regions of strategic importance to the United States.
The U.S. contribution to the GCF builds on a history of U.S. leadership to support climate action. In 2008, the Bush Administration pledged $2 billion to the Climate Investment Funds, which were established as a transitional measure to finance efforts to help developing countries address climate change. The U.S. pledge to the GCF demonstrates a continuation of the bipartisan resolve to help developing nations reduce their own emissions, whose dangerous impacts on the climate affect us all, as well as to help the most vulnerable cope with the impacts of climate change. The GCF will also help spur global markets in clean energy technologies, creating opportunities for U.S. entrepreneurs and manufacturers who are leading the way to a low-carbon future.
The GCF was originally called for in 2009 in the Copenhagen Accord, in which developing countries first committed to taking action to mitigate their carbon emissions, including by laying out specific goals and targets. The GCF will employ world-class safeguards and will finance projects and programs with the greatest potential to reduce harmful pollution and foster adaptation to climate impacts. Although the political impetus to establish the GCF came from the multilateral climate negotiations, the GCF is an independent legal entity that makes independent funding and operational decisions. It is not a United Nations agency or entity, nor will it have a large bureaucracy.  
The United States intends to contribute $3 billion to this initial fund raising effort, not to exceed 30 percent of total confirmed pledges. This share is consistent with the U.S. contribution to other funds in which we have exercised U.S. leadership to catalyze other contributions. We expect that the U.S. share will decline over time as the range of countries contributing to the GCF expands. While the United States is committed to supporting a wide range of mitigation and adaptation programs in developing countries through the GCF, we will target a significant portion of our GCF support to the GCF's Private Sector Facility. This is in recognition of the essential role the GCF must play in mobilizing private sector financing to scale up low-emission and climate-resilient investment in developing countries.
The United States expects that the GCF will become a preeminent, effective, and efficient channel for climate finance and is working to finalize the GCF's governance and institutional policies in 2015. In this regard, the United States reserves the ability to direct a portion of this pledge to other multilateral climate funds to the extent necessary based on the pace of progress.
Some of the innovative features of the GCF include:
•    A dedicated Private Sector Facility. Unlike most climate funds, the GCF will have a dedicated Private Sector Facility to support entrepreneurs developing low-carbon and climate resilient projects. It will also mobilize capital from private investors around the world. The Board is also advised by a standing Private Sector Advisory Group, composed of business leaders from developed and developing countries.
•    Inclusive governance and wider donor base. The GCF's governance structure—headed by a 24-member Board with an equal number of developed and developing countries—gives it a uniquely high level of international buy-in and collaboration, with a corresponding ability to attract non-traditional donors.
•    World-class safeguards and accountability mechanisms. The GCF will require among the strongest fiduciary standards and social and environmental safeguards for all multilateral funds in climate finance today. This will help promote GCF-financed projects and programs that are responsibly designed and implemented, and that all financial resources are managed prudently and transparently. Moreover, the GCF has an Independent Evaluation Unit, which evaluates the impact of GCF programs and projects, as well as an Independent Integrity Unit, which investigates allegations of wrongdoing or prohibited practices. Both units will report to the Board, not the Secretariat. The Board itself makes independent funding and operational decisions.
•    Work in both mitigation and adaptation. The GCF will balance its support for emissions mitigation and climate adaptation and resilience activities, building up expertise in both areas and positioning itself to capitalize on synergies between them. This balance will make the GCF unique compared with other funds.
•    Global reach. The GCF will work through a larger network of public and private partners than most other climate funds. This will help reach more regions and communities, as well as unlock opportunities in both adaptation and mitigation in hard-to-reach locations.
Barack Obama, Fact Sheet: United States Support for Global Efforts to Combat Carbon Pollution and Build Resilience Online by Gerhard Peters and John T. Woolley, The American Presidency Project https://www.presidency.ucsb.edu/node/308449