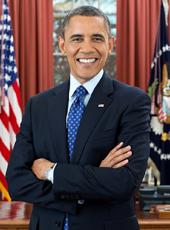 Fact Sheet: The White House Releases New Strategy for American Innovation, Announces Areas of Opportunity from Self-Driving Cars to Smart Cities
"Twenty-first century businesses will rely on American science and technology, research and development...I want Americans to win the race for the kinds of discoveries that unleash new jobs."
- President Obama, 2015 State of the Union Address
Today, the Administration is unveiling an updated Strategy for American Innovation. The Strategy, first issued in 2009, provides an overview of Administration efforts to ensure America continues to lead as the world's most innovative economy, to develop the industries of the future, and to harness innovation to help address our Nation's most important challenges.
The Strategy also makes the case for the key innovation investments to advance the important emerging technologies it identifies, which are proposed in the President's 2016 Budget and are critical for ensuring that the United States remains an innovation superpower.
The Strategy being released today has three core components that focus on:
•      The importance of investing in research and development (R&D) and the other building blocks of long-term economic growth, instead of locking in harmful sequestration cuts.
•      Strategic areas from advanced vehicles to precision medicine where focused effort can advance national priorities and help create shared prosperity.
•      New efforts to make the Federal government more innovative to improve performance and create a better environment for innovation by the private sector and civil society.
The Strategy's release coincides with "Back to the Future" Day—an unofficial celebration of the date to which Marty McFly traveled 30 years into the future in the movie Back to the Future Part II. The day offers a useful lens to examine how much innovation has changed the United States and the world over the past three decades and an opportunity to consider the innovations that could shape our world over the next three decades.

Background
For an advanced economy such as the United States, innovation is a wellspring of economic growth and a powerful tool for addressing our most pressing challenges as a nation – such as enabling more Americans to lead longer, healthier lives, and accelerating the transition to a low-carbon economy. In fact, from 1948-2012 over half of the total increase in U.S. productivity growth, a key driver of economic growth, came from innovation and technological change.
That's why President Obama issued the nation's first-ever innovation strategy in 2009, updated it in 2011, and is issuing a final update today. American scientists, engineers, and entrepreneurs invented the microchip, created the Internet, invented the smartphone, started the revolution in biotechnology, and sent astronauts to the Moon. And last year, U.S. businesses created jobs faster than at any time since the 1990s. Now is the time to renew our commitment to innovation to drive economic growth and shared prosperity for decades to come with a strategy to elevate and coordinate our investments and ensure we lead the world in the next generation of cutting-edge innovations.

Investing in R&D and other Building Blocks of Long-Term Economic Growth
The Strategy showcases why we cannot afford to be complacent or let the harmful impacts of sequester undermine the investments that have made us an innovation superpower, given that our economic competitors are dramatically increasing their commitment to R&D investments.
A thriving American innovation ecosystem requires not only visionary and risk-taking entrepreneurs and companies, but also the foundational "building blocks" of innovation in which the Federal government invests. Federally-funded research at universities and Federal laboratories creates a stream of new insights and scientific and technological breakthroughs, some of which will ultimately be commercialized by the private sector. At the same time, these investments prepare the next generation of scientists and engineers. Federal investments also underpin the physical and digital infrastructure that is not only fundamental to economic activity but also enables new products and business models.
Federal investments in R&D are critical to keeping America on the cutting edge of the innovation economy. If the President's 2016 Budget request for $146 billion in R&D is ignored and harmful sequestration cuts are imposed, the American people could be denied important research advances, such as lifesaving biomedical breakthroughs, a leading advanced manufacturing sector, and cleaner energy.
In addition, creating the right policy and regulatory environment is essential to stimulating private-sector investment, whether it is providing patent protection for life-saving drugs, maintaining a free and open Internet, enforcing our antitrust laws, governing the commercial introduction of emerging technologies, or making it easier for startups and rapidly growing firms to raise capital. The Administration is also committed to sustaining a trade agenda that has significantly boosted exports, eliminated market-access barriers, and enhanced strong and balanced intellectual property protection. Although the government's role of creating the right "rules of the road" and investing in continued long-term economic growth is less visible than that of the entrepreneur, it is critical to America's economic future.

A Spotlight on Nine Areas of Strategic Opportunity
As part of the strategy, the Administration is highlighting new areas of strategic opportunity where focused effort can advance national priorities and help create shared prosperity, including the following nine highlights:
•      Advanced Manufacturing: American manufacturing, which supplies nearly three-quarters of all U.S. private-sector research and development, is central to American innovation, both to discoveries being made today and our ability to drive productivity and job growth in the future. The President and his Administration have put forward a comprehensive agenda to strengthen U.S. manufacturing, including restoring the nation's lead at the cutting-edge of manufacturing innovation by launching a National Network for Manufacturing Innovation, reinvesting in supply chain innovation, supporting the scale-up of technology-intensive manufacturing startups, and more.
•      Precision Medicine: Most medical treatments have been designed for the "average patient." As a result of this "one-size-fits-all" approach, treatments can be very successful for some patients but not for others. Precision medicine gives clinicians tools to better understand the complex mechanisms underlying a patient's health, disease, or condition, and to better predict which treatments will be most effective – but the potential for precision medicine to improve care and speed the development of new treatments has only just begun to be tapped. The 2016 Budget proposes $215 million to launch the Precision Medicine Initiative, which will leverage advances in genomics, emerging methods for managing and analyzing large data sets, and health information technology while protecting privacy.
•      BRAIN Initiative: The social and economic burden of neurological disorders and diseases is overwhelming, and developing new treatments is critical to addressing these burdens. For example, the current cost of caring for the five million Americans with Alzheimer's disease is over $200 billion per year, including $150 billion from Medicare and Medicaid. The BRAIN Initiative has the potential to do for neuroscience what the Human Genome Project did for genomics by enabling a dynamic understanding of brain function. A deepened knowledge of how brains work will help scientists and doctors diagnose and treat diseases more incisively, educate children more effectively, and develop novel technologies and devices to help alleviate the burdens of illness and injury. The President's 2016 Budget includes over $300 million to support the BRAIN Initiative.
•      Advanced Vehicles: Breakthrough developments in sensing, computing, and data science have brought vehicle-to-vehicle communication and cutting-edge autonomous technology safety features into commercial deployment, while vehicles approaching full autonomy—self-driving cars—are already being tested on public roads. Accelerating the development and deployment of these advanced vehicle technologies could save thousands of lives annually by applying the split-second reaction times and precision decision-making of machine intelligence to the more than 90 percent of crashes involving human error. The President's 2016 Budget calls for doubling Federal investments in autonomous vehicle technology research to develop performance and safety standards for autonomous, connected, and self-driving vehicles on public roads and to comprehensively pilot these technologies in cities, on highways, and in commercial environments.
•      Smart Cities: An emerging community of civic leaders, data scientists, technologists, and companies are joining forces to build "Smart Cities"—communities that are building an infrastructure to continuously improve the collection, aggregation, and use of data to improve the life of their residents—by harnessing the growing data revolution, low-cost sensors, and research collaborations, and doing so securely to protect safety and privacy. For example, by coordinating adjacent traffic signals to decrease local traffic, a pilot project in Pittsburgh has reduced commuting travel times by nearly 25 percent on average. The Administration's new Smart Cities Initiative invests over $160 million in Federal research and leverages more than 20 cities participating in new multi-city collaborations to help local communities tackle key challenges such as reducing traffic congestion, fighting crime, fostering economic growth, managing the effects of a changing climate, and improving the delivery of city services. The President's 2016 Budget calls for over $30 million in new research and deployment investments for smart cities.
•      Clean Energy and Energy Efficient Technologies: Over the past six years, the amount of electricity generated from wind power has tripled and from solar power has increased by more than 20-fold. The Administration is determined to sustain this momentum through continuing to build on its progress in developing and deploying clean electricity technologies, catalyzing independent commitments by major foundations, institutional investors, and other long-term investors to fund climate-change solutions, make energy go further through improved energy efficiency, and work to reduce carbon pollution while helping to improve America's energy security.
•      Educational Technology: Currently, a large gap remains between the relatively modest impact that technology has had on education, particularly in grades K-12, and the transformative impact that technology has had on other parts of our lives. The President's Council of Advisors on Science and Technology estimates that less than two-tenths of one percent of overall education spending goes to R&D, unlike knowledge-intensive sectors like biotechnology which allocate 15-20 percent of revenue to R&D. But that is poised to change. The technological conditions are ripe for the development of advanced educational technologies that can transform teaching and learning. In just the past five years, DARPA has showed that Navy IT students trained with a DARPA-developed digital tutor can outperform 98 percent of the students trained with a traditional instructor. Through the President's ConnectED Initiative, the United States is now on the path to give 99 percent of students access to high-speed broadband by 2018. And the 2016 Budget includes $50 million for the creation of an Advanced Research Projects Agency for Education (ARPA-ED) to pursue breakthroughs in learning technology.
•      Space: President Obama has emphasized the importance of investing in space technology and a long-term goal in space of venturing "out into the solar system, not just to visit but to stay," as he articulated in the 2015 State of the Union Address. In addition to core investments to develop a U.S. commercial crew space transportation capability by 2017, NASA is increasing its support for longer-term research projects with ambitious goals, such as protecting astronauts from radiation in space, developing advanced propulsion systems, and allowing humans to "live off the land" by producing fuel, oxygen, and water on other planets. These investments will create the foundations for a space-faring civilization and a future human mission to Mars. The 2016 Budget proposes $1.2 billion for NASA's Commercial Spaceflight program, and $725 million for NASA's Space Technology Mission Directorate.
•      New Frontiers in Computing: Advances in high-performance computing (HPC) have the ability to improve public services, grow the economy, improve the health and safety of our community, and promote scientific discovery. Coordinated new investments are needed to overcome key challenges, including: the end of Moore's Law as a predictor of increases in system performance, the rise of extremely large data sets and attendant computational challenges, and the coming end of a two-decade period of stability in HPC architecture. In July 2015, the President created a National Strategic Computing Initiative (NSCI) by Executive Order to meet these challenges and create a cohesive, multi-agency strategic vision and Federal investment strategy for HPC. This strategy will spur the creation and deployment of computing technology at the leading edge, helping to advance Administration priorities for economic competitiveness, scientific discovery, and national security.
In addition to these nine priority areas, the Administration also believes that we must continue to invest in a pipeline of emerging "general-purpose technologies" that will serve as a source of future strategic initiatives. These technologies are innovations that have a pervasive impact on our economy and our society. Past examples include the steam engine, electricity, interchangeable parts, the transistor, and the Internet. The Administration is committed to spurring the development of the next generation of general-purpose technologies, such as nanotechnology, robotics and autonomous systems, advanced materials, and engineering biology.

An Increased Focus on Increasing the Innovation Capacity of Government
Building on the President's efforts to continue to increase innovative solutions and approaches, the Strategy also includes a new chapter on steps the Administration has taken and will take to make the Federal government even more innovative by harnessing new approaches for institutional change. Continued institutional innovation and experimentation are needed both to improve the performance of the Federal government and to create a better environment for innovation by the private sector and civil society. These public-sector innovations include tapping the ingenuity of the American people to solve problems using incentive prizes and using a "test-validate-scale" approach to find and fund what works.
The Administration is building the capacity for the broader adoption and institutionalization of these and other innovations. The Administration's Digital Service delivery teams are making access to government services simpler and more intuitive, while also working with agencies to modernize IT development and customer service standards. A network of Federal agency innovation labs is fostering a culture of innovation by empowering and equipping Federal employees to deliver better results for the American people. And a new Innovation Toolkit will give Federal employees the information they need to try new approaches to solve problems, improve the core operations of government, and promote innovation.
Barack Obama, Fact Sheet: The White House Releases New Strategy for American Innovation, Announces Areas of Opportunity from Self-Driving Cars to Smart Cities Online by Gerhard Peters and John T. Woolley, The American Presidency Project https://www.presidency.ucsb.edu/node/323181