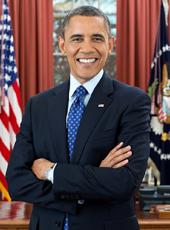 Fact Sheet: The United States and Latvia - NATO Allies and Global Partners
President Obama, Latvian President Andris B?rzi?š, and Lithuanian President Dalia Grybauskait? participated in a joint meeting hosted by Estonian President Toomas Hendrik Ilves in Tallinn on September 3. Their discussions underscored the close ties between the United States and the Baltic states, which are grounded in our shared values, ideals, and interests.
The leaders highlighted ongoing cooperation in the following areas:
Defense and Security Cooperation
•    Operation ATLANTIC RESOLVE: In light of the Russian military intervention in Ukraine, the United States is demonstrating its continued commitment to collective security through a series of actions designed to reassure NATO Allies and partners of America's dedication to enduring peace and stability in the region. As a first response to demonstrate our commitment to the defense of our Allies, the U.S. augmented its participation in Baltic Air Policing by sending an additional six F-15s to the NATO mission. Under operation ATLANTIC RESOLVE, U.S. Army Europe forces have deployed to Latvia, along with other Allies in the region, to conduct land forces training. U.S. and Latvian troops participate in a range of other joint and multilateral exercises, including SABER STRIKE, BALTOPS, and STEADFAST JAZZ. Latvian soldiers and defense personnel also receive technical training and strategic education in the United States.
•    NATO Allies: As NATO allies, the United States and Latvia are committed to each other's defense and partner in critical areas around the world. Latvia contributes important capabilities to the Alliance's collective security, including the training of U.S.-certified joint terminal attack controllers (JTAC) who coordinate air support for ground units during operations.
•    The State Partnership Program: Latvia has partnered with the Michigan National Guard since 1993. The program has brought together hundreds of Guard personnel and their Latvian counterparts through training and outreach activities. Latvia and the Michigan National Guard are also joint providers of military assistance to Liberia through a program to train non-commissioned officers.
•    Afghanistan: Latvia is a stalwart supporter of the NATO-led International Security Assistance Force (ISAF) mission in Afghanistan and has committed to continue supporting NATO's post-2014 non-combat mission. Latvia contributed to a Provincial Reconstruction Team in Faryab province and was deployed to the Nordic-Baltic Task Force in Mazar-e-Sharif. Additionally, Latvian Special Operations Forces continue to support the ISAF mission in Kabul. Riga is a key transit point along the Northern Distribution Network, which facilitates the transport of materiel to coalition troops in Afghanistan and serves as a retrograde route for materiel leaving the theater. Latvia has pledged $500,000 annually from 2015 to 2017 to support the Afghan National Security Forces.
•    Cybersecurity: The government of Latvia has recognized the danger of increased cyber threats and is working together with NATO, the European Union, the Baltic states, Nordic states, and the United States to strengthen its cybersecurity. The United States supports Latvia's efforts through visits by U.S. experts and Latvian participation in EUCOM- and NATO-sponsored events and U.S.-based training. The government of Latvia is also a partner in the Freedom Online Coalition, a group of governments collaborating to advance Internet freedom.
Diplomatic Cooperation and Global Development
•    Development Cooperation: The United States and Latvia share interests in promoting democracy, development and the rule of law in Central Asia. Through the Emerging Donors Challenge Fund, the United States and Latvia are co-financing a project in Uzbekistan to enhance export control and border security capabilities. Through the Community of Democracies, the United States and Latvia are co-financing a project to promote human rights and build capacity to prevent domestic violence and support victims in Kyrgyzstan, Tajikistan, and Uzbekistan.
•    Eastern Partnership: Along with the United States, Latvia places great emphasis on assisting the EU's Eastern Partnership countries and have highlighted it as one of their priorities for its EU presidency in 2015. Latvia's efforts in this area have included supporting land registration modernization in Azerbaijan; conducting border guard training in Belarus and Georgia, in conjunction with Estonia and Lithuania; and providing training to the Georgian armed forces. Additionally, Latvia conducts economic development and rule of law projects in Moldova through the U.S.-Latvia Agreement on Supporting Justice Sector Reform in Moldova, which was signed in June 2012.
•    Global Cooperation: Latvia has been a strong ally in advancing human rights and democratic values around the world. Latvia supports the work of the Lifeline: Embattled Civil Society Organizations Assistance Fund and has pledged to make a financial contribution. Latvia has taken a leading role in encouraging democratic reforms and helping Eastern Partnership countries Armenia, Azerbaijan, Belarus, Georgia, Moldova, and Ukraine integrate more fully into European institutions. Latvia deploys seamen to the EU-led anti-piracy and anti-robbery Operation ATALANTA off the coast of Somalia and provides military training in Mali.
Economic, Energy, and Environmental Cooperation
•    Energy Security: Latvia actively pursues a national strategy of energy diversification. A key portion of Latvia's energy diversification strategy involves the promotion of renewable energy and energy efficiency. With half of its territory covered by forests, wood biomass is one of the primary fields for development. Latvian companies are pursuing U.S. technology and partnerships in wind power, biomass gasification, and waste energy solutions. These efforts support the Latvian government's commitment to produce 40 percent of total energy consumption from renewable sources by 2020.
•    Trade, Investment, and Jobs: Bilateral trade in goods between the United States and Latvia totaled $767 million in 2013. Coal and petroleum gases, machinery, and vehicles are among the United States' major exports to Latvia. Recent partnerships between U.S. and Latvian businesses have been concentrated in the information technology, transportation and logistics, energy, and heavy industry sectors. The government of Latvia has expressed strong support for the U.S.-EU Transatlantic Trade and Investment Partnership (T-TIP) negotiations. T-TIP aims to boost economic growth in the United States and in the EU and add to the more than 13 million U.S. and EU jobs already supported by transatlantic trade and investment. In May 2013, Latvia was selected to receive a roadmap for membership in the Organization for Economic Cooperation and Development.
Educational and Cultural Ties
•    Educational and Professional Exchange Programs: Since 1991, the United States has awarded Fulbright fellowships to 184 outstanding scholars and students from Latvia to study and conduct research in the United States, and 428 Latvians have participated in the International Visitor Leadership Program, the Department of State's premier professional exchange program. Additionally, in the past 20 years, more than 150 U.S. Fulbright scholars and students have conducted research and lectured at universities in Latvia. Alumni of U.S. government exchange programs maintain a strong network, which includes government ministers, parliamentarians, journalists, artists, and educators. This network actively develops projects based on their program experiences that advance entrepreneurship, women's and youth empowerment, and engagement of underserved populations.
•    Cultural Programs: A robust series of cultural exchanges between the United States and Latvia in the fields of music, literature and humanities have strengthened ties between our two nations. Latvians and Americans share a deep appreciation for music and art. In 2013, the Boston Symphony Orchestra appointed internationally acclaimed Latvian conductor Andris Nelsons as its music director. In summer 2014, Riga hosted the World Choir Games with Latvian choirs winning top honors and the U.S. choirs earning the second highest number of awards. As part of Riga's tenure as the European Cultural Capital in 2014, the Embassy sponsored three major visual art exhibitions. These include an exhibition by the Latvian-born American artist Vija Celmins in April, a major show by American photographer Mary Ellen Mark in May, and "Kennedy Family" photo exhibition by American photographer Mark Shaw in September.
Barack Obama, Fact Sheet: The United States and Latvia - NATO Allies and Global Partners Online by Gerhard Peters and John T. Woolley, The American Presidency Project https://www.presidency.ucsb.edu/node/308623