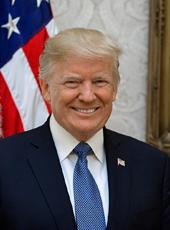 Fact Sheet - The Tax Cuts and Jobs Act is Generating An Economic Resurgence in Communities Across the Country
"Everywhere we look, we are seeing the effects of the American economic miracle." --President Donald J. Trump
REVITALIZING AMERICAN COMMUNITIES: Opportunity Zones are a critical part of President Trump's efforts to bring economic opportunity to communities that have been left behind.
The Tax Cuts and Jobs Act (TCJA) included a new Opportunity Zones incentive designed to bring investment to struggling communities across the country.
Under the TCJA, investors can get tax benefits by investing in communities designated as Opportunity Zones.

Investors receive tax benefits on capital gains that they reinvest into Opportunity Zones through investment vehicles called Qualified Opportunity Funds.
These benefits are structured to promote long-term investment that will help these communities recover and thrive.

All States, Territories, and the District of Columbia nominated low-income communities to be designated as Opportunity Zones.
8,762 communities home to nearly 35 million Americans have now been designated.
Opportunity Zones will help encourage investors to fund new businesses, develop properties, and finance construction in these struggling communities.
A NEW DAY FOR THE AMERICAN ECONOMY: The TCJA is driving renewed growth and has lifted Americans' optimism in the economy.
For the first time in more than a decade, the economy reached 3 percent growth over the 4 quarters of 2018.

Gross Domestic Product (GDP) grew by 3 percent from the fourth quarter of 2017 to the fourth quarter of 2018.

American workers and job creators have expressed renewed confidence following the passage of the TCJA and the resurgence of the American economy.
Optimism among small businesses and manufacturers soared to record highs last year.
Americans' optimism about their ability to find a good job hit a record high last year, according to a poll by Gallup.
OPEN FOR BUSINESS: The TCJA is bringing money back from overseas and leading to more investment here in America.
The TCJA is generating more investment right here America and helping to deliver an economic resurgence in communities across the country.
As promised, companies are finally bringing money back from overseas thanks to the TCJA.

In 2018, companies repatriated over half a trillion dollars held overseas.
Companies repatriated nearly $295 billion in the first quarter of 2018 following the signing of the tax cuts.

The TCJA enabled businesses to invest more in their own operations by allowing for capital investments to be immediately written off.

Key Federal Reserve indices have suggested over 2018 and the first quarter of 2019 that manufacturers are planning to continue investing in capital going forward.
Donald J. Trump, Fact Sheet - The Tax Cuts and Jobs Act is Generating An Economic Resurgence in Communities Across the Country Online by Gerhard Peters and John T. Woolley, The American Presidency Project https://www.presidency.ucsb.edu/node/334751