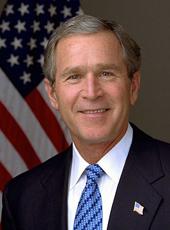 Fact Sheet: The President's Health Care Agenda
"On the critical issue of health care, our goal is to ensure that Americans can choose and afford private health care coverage that best fits their individual needs. To make insurance more affordable, Congress must act to address rapidly rising health care costs."
President Bush, State of the Union, January 20, 2004
The President's Plan To Make Health Care More Affordable
Association Health Plans (AHPs) will help small businesses provide affordable health insurance coverage to their workers. AHPs will give America's working families greater access to affordable health insurance by allowing small businesses to band together through trade groups and negotiate on behalf of their employees and their families.
Millions of Americans will get help with their out-of-pocket medical expenses through health savings accounts (HSAs). The Medicare bill that President Bush signed into law will enable people who purchase high-deductible health insurance coverage to establish health savings accounts. These tax-exempt, portable accounts will help families pay their routine medical expenses and provide a tax-preferred means of saving for future health care needs.
New health insurance deductions will make coverage more affordable to millions of Americans whose employers don't provide health benefits. The President's proposal will allow individuals who establish HSAs to deduct the premiums they pay for their high-deductible health insurance policies. This new deduction will be available to taxpayers whether or not they itemize. It will reduce the net cost of these policies and encourage the use of HSAs for making wise, cost-effective health care choices.
Refundable tax credits will make health insurance more affordable to millions of low-income Americans. The President has proposed to establish refundable tax credits of up to $1,000 for individuals and $3,000 for families to help low-income workers buy health insurance coverage.
Medical liability reform will help improve health care quality and slow the rise in health care costs. President Bush believes these needed reforms will increase access to quality, affordable health care for all Americans, while reducing frivolous and time-consuming legal proceedings against doctors and health care providers that are driving good providers out of communities across the country.
The President's Health Care Accomplishments
All seniors will be guaranteed access to affordable prescription drug coverage under Medicare. In December 2003, President Bush signed into law legislation that will make Medicare prescription drug coverage available to 40 million seniors and people with disabilities. The new benefit will become available on January 1, 2006. Beginning in June 2004, beneficiaries will have access to Medicare-approved prescription drug discount cards, which will save them 10 -- 25 percent off the retail price of most prescription drugs. Low-income beneficiaries also will receive $600 to help them purchase their medicines.
All seniors will have more choices and better benefits under a strengthened and improved Medicare program. In addition to helping seniors afford their prescriptions, the legislation the President signed enhances basic Medicare coverage by providing better preventive care and disease management services. Beginning in 2006, seniors also will get the same kinds of choices the Members of Congress and federal employees have to select the coverage that is best for them, including the choice of keeping their Medicare coverage just the way it is.
Millions of low-income Americans made eligible for coverage. Since January 2001, the Department of Health and Human Services has helped states extend coverage to an estimated 2.6 million low-income Americans eligible under Medicaid and the State Child Health Insurance Program (SCHIP) by granting states waivers and approving state plan amendments.
Vulnerable populations who live in medically underserved areas have gained greater access to medical services. To fulfill a commitment to create 1,200 new and expanded health center sites to serve an additional 6.1 million people by 2006, the President has dramatically increased funding to commit health centers to help individuals that live in underserved and rural areas, including many people that are uninsured, low income individuals, migrant farm workers, homeless individuals, and children. As part of the Medicare act, the President also signed into law a provision that authorizes $1 billion to compensate hospitals for the cost of providing emergency medical care to undocumented aliens.
Federal funding of state high-risk pools will make health insurance coverage more affordable to individuals with serious medical conditions. Many Americans with pre-existing medical conditions have difficulty finding insurance coverage. Others have policies available, but can't afford the premiums. High risk pools in 30 states make coverage available and more affordable to these individuals. In December 2002, President Bush signed into law legislation that will make $100 million available to states to establish and support high-risk pools. Some $40 million in federal funds will be awarded to states this year to help subsidize these pools, with the first set of grants expected to be issued by HHS later this month.
Doubling the budget of the National Institutes of Health will lead to better health care for all Americans. President Bush fulfilled a commitment by completing the historic doubling of the NIH budget by 2003, dramatically increasing medical research funded by NIH to speed cures and treatments for the diseases that plague our nation and the world.
Increased funding for biodefense preparedness is strengthening our homeland security and improving public health surveillance. The President has provided nearly $4.5 billion to states, local governments and hospitals for a bioterrorist attack. Enhancements to public health surveillance improve our capacity in the area of detecting and responding to all human illnesses and outbreaks of disease.
George W. Bush, Fact Sheet: The President's Health Care Agenda Online by Gerhard Peters and John T. Woolley, The American Presidency Project https://www.presidency.ucsb.edu/node/281842