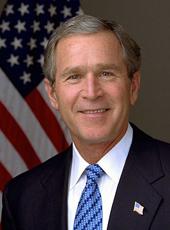 Fact Sheet: The Federal Government's Hurricane Rita Preparations
On September 23, 2005, President Bush Traveled To FEMA Headquarters In Washington, D.C., And Northern Command In Colorado To Monitor Hurricane Rita Preparations. The President was briefed on preparations for the arrival of Hurricane Rita and evacuation efforts at Federal Emergency Management Agency (FEMA) headquarters. The President then traveled to Northern Command headquarters in Colorado to assess the Federal government's efforts to respond to Rita in coordination with state and local officials.
The Federal Government Has Made Preparations For Hurricane Rita. Working with other Federal, state, and local agencies, the Department of Homeland Security (DHS) and FEMA have prepared for Hurricane Rita. The Federal government is pre-positioning personnel and supplies to immediately respond.
President Bush Has Declared States Of Emergency In Louisiana And Texas. Emergency declarations will help expedite the Federal response in the wake of Hurricane Rita. Homeland Security Secretary Michael Chertoff has declared Hurricane Rita an "incident of national significance" and has ordered U.S. Coast Guard (USCG) Rear Admiral Larry Hereth to Texas to coordinate Federal relief efforts.
The Federal Government Has Pre-Positioned Supplies In The Region. Forty-five truckloads of water, 45 truckloads of ice, and 25 truckloads of meals are pre-staging at Federal facilities in Texas. In Louisiana, 140 truckloads of water, 120 truckloads of ice, and 73 truckloads of meals are also pre-positioned. FEMA is moving additional personnel and commodities to Texas.
The Department Of Transportation (DOT) And The Transportation Security Administration (TSA) Are Assisting With Evacuation Efforts. The TSA sent an additional 150 screeners to Houston to assist in moving people through the airports to evacuate them from the city. DOT has provided over 650 buses to Texas and Louisiana to support preparations for Hurricane Rita.
USCG Aircraft And Ships Are Positioned To Support Relief Efforts. Thirteen Coast Guard aircraft in Corpus Christi and Houston are being readied to evacuate and relocate to a staging position to quickly respond once the storm passes. USCG relief aircrews and aircraft from around the country are arriving at staging areas in Texas. Four additional HH-60 Jayhawk helicopters are being pre-staged in San Antonio. Six major USCG cutters are in the Gulf of Mexico and will be pre-positioned to follow the storm to provide immediate support for search and rescue, command and control, and waterways assessment. Additional USCG personnel, disaster assistance teams, and environmental pollution strike teams are ready to respond.
The Texas National Guard Has Been Activated. Nearly 3,500 National Guardsmen in Texas are on state active duty, and Governor Perry has authorized the activation of up to 5,000 of the more than 10,000 National Guardsmen currently available in the state. Approximately 1,350 Texas National Guardsmen serving in Louisiana have returned to Texas in anticipation of the storm.
The Department Of Defense (DOD) Is Providing Military Helicopters And Police. DOD has a mission assignment for 6 heavy-lift helicopters at Ft. Sam Houston, Texas, and 6 heavy-lift helicopters at Ft. Worth, Texas, for search and rescue support. The military is also deploying communications teams to assist first-responders in search and rescue efforts. DOD is making available 2,000 active duty "security forces" such as military police, and active-duty troops in the Gulf Coast region are on stand-by to deploy to Texas.
Medical Personnel And Volunteers Are On Stand-By. Over 450 medical team personnel and almost 900 urban search and rescue personnel are pre-staging in Texas. In Louisiana, 450 search and rescue personnel are already positioned. An aggressive recruitment campaign has identified civilian volunteers, including more than 200 physicians and more than 400 registered nurses who could be deployed in response to Hurricane Rita.
DHS Is Preparing To Restore Critical Infrastructure. Infrastructure Protection division is assessing the potential consequences to critical infrastructure located in the storm's projected path, along with the requirements to secure and restore these facilities in the storm's aftermath. Based upon these assessments, DHS will work with private sector partners and state and local government officials during the recovery phase.
George W. Bush, Fact Sheet: The Federal Government's Hurricane Rita Preparations Online by Gerhard Peters and John T. Woolley, The American Presidency Project https://www.presidency.ucsb.edu/node/283765