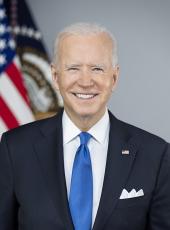 FACT SHEET: The Biden-Harris Administration is Taking Action to Restore and Strengthen American Democracy
From the first day in office and every day since, the Biden-Harris Administration has taken decisive action to restore and strengthen American democracy, from cracking down on corruption and promoting transparency to taking critical steps to ensure the federal government works for every American — no matter what they look like or where they live. This cause will be a guiding principle throughout the President's time in office, and that includes prioritizing the fight to pass the Freedom to Vote Act and the John Lewis Voting Rights Advancement Act to protect the sacred right to vote in free, fair, and secure elections.
Sustaining democracy is also a shared challenge and commitment for our allies and partners overseas. Against the backdrop of a rise in authoritarianism and increasing threats to democracy around the world, President Biden is convening world leaders for a Summit for Democracy to provide an opportunity to listen, learn, and share how governments and non-governmental actors can strengthen their commitment to democratic principles and practices, and their responsiveness to the people they serve.
As President Biden made clear in his first Address to the Joint Session of Congress on April 28, 2021, "We have to prove democracy still works — that our government still works and we can deliver for our people." Demonstrating that democracy can deliver to improve people's lives and address the greatest challenges of our time — and that we, the people, can work together to address the threats facing our democracy — is at the heart of the Biden-Harris Administration's plan to Build Back Better.
Last month, after working across the aisle to negotiate with Members of Congress from both parties, President Biden signed the bipartisan Infrastructure Investment and Jobs Act (IIJA). This once-in-a-generation investment in America's infrastructure and competitiveness will drive the creation of good-paying union jobs, grow the economy sustainably and equitably, and shows that democracy can deliver results for the American people. President Biden continues to work with Congress to enact the Build Back Better Act, historic legislation that will cut the cost of child care and elder care, invest in affordable housing, position the U.S. to tackle the climate crisis, make health care and prescription drugs more affordable, and much more — fully paid for by ensuring the wealthiest individuals and corporations pay their fair share. These transformational pieces of legislation also make critical investments in American democracy, including:
Delivering Broadband Access and Digital Literacy Skills. The Bipartisan Infrastructure Law provides $65 billion to help ensure that every American has access to reliable high-speed internet, close the digital divide, and fund digital literacy initiatives to provide individuals with the skills needed to critically evaluate information online. These investments will democratize access to information, services, and opportunity while promoting information awareness and education.
Foster Civic Engagement and a Culture of National Service. The Build Back Better Act will create a new Civilian Climate Corps (CCC), bringing together a diverse generation of over 300,000 Americans to work together in common purpose to conserve our public lands and waters, bolster community resilience, and address the changing climate. It will provide AmeriCorps with a historic $15 billion investment to expand service opportunities and increase the living allowance and education award for all AmeriCorps members, making national service a more accessible pathway to good-paying union jobs for more Americans of all backgrounds.
Investing in Civic Infrastructure. The Build Back Better Act contains $3 billion to create a new Community Restoration and Revitalization Fund, which will fund community-led civic infrastructure projects to create shared amenities that spark local economic activity, provide services, and strengthen communities' civic fabric.
Supporting Local Journalism. The Build Back Better Act will provide tax credits for local newsrooms to hire journalists, helping to stabilize newsroom budgets in the face of unprecedented challenges and sustaining Americans' access to the independent journalism that informs citizens and holds the powerful accountable.
The Biden-Harris Administration firmly believes that renewing democracy around the globe begins by working diligently and transparently to strengthen its foundations at home. The Administration is taking bold action across the Summit's three broad themes: strengthening democracy and defending against authoritarianism; fighting corruption; and promoting respect for human rights.
Strengthening Democracy and Defending Against Authoritarianism
In addition to pressing for essential legislation to protect voting rights and strengthen our democracy, the Biden-Harris Administration is using available authorities and resources to defend the right to vote. The Administration has also advanced a broad range of actions to repair the fabric of our democracy, from bolstering workers' rights and unions, an essential bulwark of democratic societies, to combating domestic violent extremism. Building on the work of the past year, new announcements we will be highlighting this week include:
Ensuring Compliance with Voting Rights Laws. The Department of Justice (DOJ) has taken a variety of steps to help protect the right to vote, including doubling the number of voting rights attorneys, taking steps to ensure compliance with voting rights statutes, and issuing guidance on (1) the civil and criminal statutes that apply to post-election audits, (2) methods of voting, including early voting and voting by mail, and (3) the vote-dilution protections that apply to all jurisdictions under Section 2 of the Voting Rights Act as they engage in redistricting.
Making it Easier for Americans to Register to Vote. Federal agencies continue to robustly implement President Biden's Executive Order on Promoting Access to Voting, including among many other things:

The Centers for Medicare & Medicaid Services (CMS) will make it easier for consumers using HealthCare.gov to connect to voter registration services and receive assistance. CMS will also work with states on improving access to voter registration.
The Department of Veterans Affairs will provide materials and assistance in registering and voting for tens of thousands of inpatients and residents, including VA Medical Center inpatients and residents of VA nursing homes and treatment centers for homeless veterans. The Department will also facilitate assistance in registering and voting for homebound veterans and their caregivers through VA's home-based and telehealth teams.
The U.S. Small Business Administration became the first federal agency to request designation as a voter registration agency pursuant to the National Voter Registration Act, committing to offer Americans seeking services at the agency's District Field Offices the opportunity to register to vote.

Combating Misinformation and Disinformation. Today, the White House announced that an interagency Information Integrity Research and Development Working Group will develop and release a first-of-its-kind strategic plan concerning government-wide research and development to better understand the full information ecosystem; design strategies for preserving information integrity and mitigating the effects of information manipulation, including mis- and disinformation; support information awareness and education; and foster a multi-disciplinary and collaborative research environment.
Fighting Corruption
Since Day One, the administration has worked to earn and keep the trust of Americans by cracking down on corruption and promoting an accountable and transparent government that works for the people, from requiring all appointees to take a stringent ethics pledge, to releasing the President's and Vice-President's taxes, to issuing policies to restore DOJ's independence. In addition to the steps we've already taken, this week we will be highlighting actions including:
Developing a Strategy on Countering Corruption. The Biden-Harris Administration released the first-ever United States Strategy on Countering Corruption, outlining a whole-of-government approach to elevating the fight against corruption both at home and abroad. The Strategy includes the Department of the Treasury's Financial Crimes Enforcement Network (FinCEN) publishing proposed regulations requiring companies to identify to FinCEN the real people who own or control them, making it harder for criminals to launder illicit proceeds through shell companies. The Strategy also commits FinCEN to launching a regulatory process for potential new reporting and recordkeeping requirements to increase transparency in real estate transactions, diminishing the ability of corrupt actors to launder ill-gotten proceeds through real estate purchases.
Restoring Ethics, Transparency, and the Rule of Law. The Administration will continue working with Congress to restore democratic guardrails to prevent future abuses of presidential power and curtail corruption, with legislation that is consistent with our constitutional principles and that appropriately addresses the balance of powers between the three branches of our federal government. In doing so, the Administration will work to ensure that no branch is able to abuse its authority or undermine a co-equal branch's constitutional prerogatives, no matter who is in power.
Promoting Respect for Human Rights
The Biden-Harris Administration has centered equity and the advancement of fundamental rights as a priority to ensure that all Americans are able to fully participate in our democracy and have a fair shot at the American dream. The Administration has worked to embed equity across many fronts, including taking concrete steps to advance gender equality; accelerate LGBTQI+ equality; expand access and inclusion for Americans with disabilities; support and respect Native communities; combat hate crimes; and reform our criminal justice system. In addition to all of the work that has happened over the past year, this week we are proud to highlight new announcements including:
Combating Human Trafficking. In a new National Action Plan to Combat Human Trafficking, the Biden-Harris Administration is reaffirming its commitment to addressing this abhorrent crime, which disproportionately impacts some of the most vulnerable and underserved members of our society. The plan lays out foundational pillars of U.S. and global anti-trafficking efforts — prevention, protection, prosecution, and partnerships.
Closing the Racial Wealth Gap. The Biden-Harris Administration — the largest purchaser of goods and services in the world — recently announced new reforms to the federal procurement process that will increase equity, help close the racial wealth gap, and level the playing field for underserved small businesses. The President is delivering on his goal of increasing the share of federal procurement dollars to small disadvantaged businesses, which Black-owned, Latino-owned, and other minority-owned businesses are presumed to qualify, by 50 percent by 2025. This ambitious target will mean an additional $100 billion for underserved small businesses over the next five years.
Promoting Equality for Transgender and Gender Diverse Americans. Building on the State Department's announcement that it will offer a third gender marker on U.S. passports, the White House is convening an interagency policy committee to advance a coordinated federal approach to expanding access to accurate and inclusive federal identity documents for transgender and gender diverse people.
Democracy is always a work-in-progress, a constant striving to build a more perfect union. Following the Summit, the Biden-Harris Administration and democracies across the globe will convene governmental, civil society, and private sector partners during a year of consultation, coordination, and action ("Year of Action") to advance democracy, after which time President Biden intends to again gather world leaders to showcase our collective progress and forge a path forward. The Biden-Harris Administration will continue its steadfast work to strengthen democracy, with additional actions and commitments to be announced throughout the year to come.
For a more comprehensive accounting of the Biden-Harris Administration's record of accomplishments and ongoing efforts to restore and reinvigorate American democracy, you can go to WH.Gov.
Joseph R. Biden, FACT SHEET: The Biden-Harris Administration is Taking Action to Restore and Strengthen American Democracy Online by Gerhard Peters and John T. Woolley, The American Presidency Project https://www.presidency.ucsb.edu/node/353690