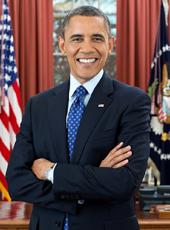 Fact Sheet: President's Interagency Task Force to Monitor and Combat Trafficking in Persons
Following President Obama's March 2012 call to strengthen federal efforts to combat human trafficking, we - as agencies of the President's Interagency Task Force to Monitor and Combat Trafficking in Persons (PITF) - have brought together leaders from government, the private sector, advocates, survivors, communities of faith, civil society, law enforcement, and academia to strengthen our nation's collective efforts to combat human trafficking. In implementing this ambitious agenda, the Obama Administration has focused on four priority areas: rule of law, victim services, procurement and supply chains, and public awareness and outreach.
Human trafficking is a crime involving the exploitation of someone for the purposes of compelled labor or a commercial sex act through the use of force, fraud, or coercion. Where a person younger than 18 is induced to perform a commercial sex act, it is a crime regardless of whether there is any force, fraud, or coercion. A victim need not be physically transported for a trafficking crime to occur.
PITF agencies are leveraging resources more effectively and developing robust whole-of-agency responses to combat trafficking. The diverse achievements range from advancing the first-ever Partnership for Freedom competition - a public-private partnership announced by President Obama to spur innovative solutions to problems caused by modern slavery - to gathering data on the sectors at greatest risk of trafficking-related activities in federal contracts and global supply chains. We were also proud to announce last month the formation of the new U.S. Advisory Council on Human Trafficking, through which survivors will provide input and expertise to federal agencies on U.S. anti-trafficking policy.
This fact sheet offers only a snapshot of the Administration's accomplishments, and more information is available from the State Department.
Rule of Law:
• In September, the Justice Department announced $22 million in grant funding to combat human trafficking, almost half of which will fund 16 anti-human trafficking task forces made up of federal, state, and local law enforcement.

• The highly effective Anti-Trafficking Coordination Team (ACTeam) Initiative, a partnership between the Departments of Justice, Homeland Security, and Labor, develops high-impact human trafficking investigations and prosecutions. We look forward to announcing in 2016 the Phase II ACTeam sites through a competitive, nationwide selection process.

• The FBI takes part in more than 120 Human Trafficking Task Forces and Working Groups that partner with other federal, tribal, state, and local law enforcement agencies, as well as NGOs to ensure trafficking victims are provided with comprehensive services. This unprecedented, unified effort has resulted in the arrests of almost 3,500 persons for human trafficking offenses during FY2015, and the safe recovery of numerous victims throughout our country.

• The Intelligence Community (IC) partnered with law enforcement agencies to conduct pilot research projects designed to identify gaps in our knowledge base and translate those findings into targeted collection efforts. The IC also participated in the training of Embassy personnel overseas in an ongoing effort to expand reporting on trafficking.

• As president of the U.N. Security Council in December, the U.S. Mission to the United Nations convened an open debate, unprecedented in its 70-year history, on "Trafficking in Persons in Situations of Conflict" to shine a spotlight on human trafficking by the Islamic State of Iraq and the Levant (ISIL) and Boko Haram.
Victim Services:
• In 2015, the Administration announced an unprecedented $28 million from DOJ and HHS in funding for comprehensive services for victims of human trafficking in the United States.

• The Department of State just launched a new in-person registration program that supports continued efforts to enhance protections for domestic workers employed by foreign personnel at foreign missions in Washington, and will expand the program in the future to include domestic workers employed by foreign personnel at foreign consulates as well as personnel at international organizations throughout the United States.

• The Department of Health and Human Services' established the Office on Trafficking in Persons to coordinate anti-trafficking responses and victim assistance efforts across multiple systems of care, including refugee resettlement, child welfare, runaway and homeless youth, and domestic violence programs. This year, HHS will expand training for health and human service providers likely to work with trafficking victims and provide enhanced tools and guidance on trauma-informed practices to address related mental health needs.

• The Department of Labor's 4-year, nearly $12 million "BRIDGE Project," From Protocol to Practice: Building a Bridge to Global Action on Forced Labor, works to fight forced labor of adults and children around the world.
Procurement and Supply Chains:
• The White House Forum on Combating Human Trafficking in Supply Chains brought together leaders from the private sector, NGOs, and the federal government to discuss the prevention of human trafficking in federal contracts and private-sector supply chains.

• Secretary Kerry presented the 2015 Presidential Award for Extraordinary Efforts to Combat Trafficking in Persons to the Coalition of Immokalee Workers for pioneering a zero-tolerance program that puts workers and social responsibility at the center, and has eradicated human trafficking in the farms that participate in its Fair Food Program.

• Working at the nexus of business and human rights, USAID has pioneered a new initiative called Supply Unchained to better identify and counter human trafficking in supply chains. USAID is partnering with an NGO in India to create a model for identifying human trafficking cases in the lowest tiers of global supply chains, and also with the Issara Institute to create a mobile application for Burmese migrant workers to better connect and share information to counter human trafficking risks in Thailand's export-oriented seafood supply chains.

• The Department of Defense, in April 2015, held its largest ever Operational Contract Support Exercise that evaluated current policies aimed at combating human trafficking via the supply chain in U.S. Pacific Command's area of responsibility. The Department is planning a similar exercise this April for U.S. Southern Command.

• As discussed at the January 2015, White House Forum on Combating Human Trafficking in Supply Chains, the Federal Acquisition Regulatory Council will soon release the proposed rule for public comment through a federal register notice for a government-wide definition for recruitment fees. The definition will provide greater clarity and help ensure federal contractors and other companies are successful in addressing human trafficking concerns in their supply chains.

• The recently concluded Trans-Pacific Partnership negotiated by the Office of the U.S. Trade Representative includes enforceable obligations on labor rights, including on the elimination of forced labor and to address trade in goods produced by forced labor, and specifically targets trafficking concerns in trading partners, such as Malaysia, by requiring reforms in law and practice to better protect vulnerable populations and to prosecute traffickers.

• Additionally, the State Department this month will launch an online resource, ResponsibleSourcingTool.org, to strengthen protections against forced labor in federal and global supply chains.
Public Awareness and Outreach:
• The Department of Homeland Security's Blue Campaign collaborates with multiple government agencies to support awareness and training efforts within the government and with the public. The Blue Campaign's public service announcement, "Out of the Shadows," aired more than 52,900 times across the Nation on television and more than 11,800 times on the radio. Additionally, the DHS-HSI Victim Assistance Program held over 1,000 community events focused on raising public awareness and educating law enforcement and NGOs.

• The Department of the Interior convened the first ever Native American Human Trafficking Task Force in Albuquerque. The group will conduct training and public awareness campaigns with tribal leaders and gaming institutions as well as work with New Mexico state officials to develop protocols for responding to human trafficking.

• The Department of Agriculture is working with the DHS Blue Campaign to develop food and agriculture centric materials to raise awareness of human trafficking with industry partners and will partner with Health and Human Services to increase awareness of trafficking in USDA StrikeForce states that may be particularly susceptible to trafficking due to extreme poverty. The StrikeForce teams collaborate with more than 500 community partners across 20 states to address rural poverty.

• The Department of Education published Human Trafficking in America's Schools to help school staff identify potential victims, protect students, and work with partners in their efforts to prosecute traffickers. Additionally, Education and HHS formed a public-private partnership with President Lincoln's Cottage to launch a peer-to-peer social media competition to raise awareness about human trafficking among high school students.

• The Department of Transportation partnered with DHS to implement trainings tailored for airline personnel and the motor coach industry, and, at industry's request, will train transit operators beginning in 2016.

• The Equal Employment Opportunity Commission has partnered with several community-based organizations and conducted 244 events to raise awareness about human trafficking and educate vulnerable communities. The Commission also trained staff and representatives of state and local fair employment practice agencies on identifying and developing instances of human trafficking.
Additional references:
President Obama Announces Members of United States Advisory Council on Human Trafficking here. (12/16/2015)
Presidential Proclamation - National Slavery and Human Trafficking Prevention Month here. (12/31/2015)
Barack Obama, Fact Sheet: President's Interagency Task Force to Monitor and Combat Trafficking in Persons Online by Gerhard Peters and John T. Woolley, The American Presidency Project https://www.presidency.ucsb.edu/node/318615