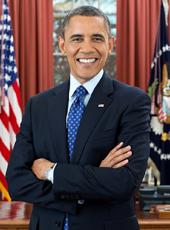 Fact Sheet: President Obama Proposes New Funding to Build Resilience of Alaska's Communities and Combat Climate Change
When the President visited Alaska in August, he described the urgent and growing threat of a changing climate as "a challenge that will define the contours of this century more dramatically than any other." Last year broke the record set by 2014 as the warmest year on record. Climate change is already disrupting our agriculture and ecosystems, our water and food supplies, our energy, our infrastructure, and our health and safety.
In no place is this truer than in Alaska. The Arctic is warming twice as fast as the rest of the world, and is experiencing the consequences. Higher average temperatures are diminishing the range of winter sea ice, allowing heavy storm surges to batter the Alaskan coastline, and interrupting the winter hunting season for Alaska Natives, many of whom rely on subsistence to feed themselves and their families.
The President believes we must invest in Alaska's long-term economic and environmental well-being in a way that transcends his time in office. This priority, as well as the President's broader commitment to conservation and climate action – and the economic growth they bring – is evident throughout the President's 2017 Budget, literally from cover to cover. In fact, the cover of this year's Budget is an image of Denali, which the President renamed last year during his trip to Alaska, restoring the Koyukon Athabascan name of Denali to the tallest mountain in North America, previously known as Mt. McKinley.
The President's FY 2017 Budget lays out a vision for the future of Federal-State collaboration in Alaska with a package of proposals aimed at reducing the risks of climate change and building the resilience of Alaska's communities and natural resources to climate change in a fiscally responsible way, including by:
Accelerating Construction of a New Icebreaker. The President's Budget meets the Administration's commitment to fast-track construction of a new polar-class icebreaker by providing $150 million to complete all planning and design activities necessary to begin production activities by 2020. The new, heavy icebreaker will assure year-round accessibility to the Arctic region for Coast Guard missions including protection of Alaska's maritime environment and resources.
Establishing a Coastal Climate Resilience Fund at the Department of the Interior. Approximately $400 million of a $2 billion Coastal Climate Resilience program will be set aside to cover the unique circumstances confronting vulnerable Alaskan communities, including relocation expenses for Alaska Native villages threatened by rising seas, coastal erosion, and storm surges. The program will provide resources over 10 years for at-risk coastal States, local governments, and their communities to prepare for and adapt to climate change. This program would be paid for by redirecting roughly half of the savings achieved by repealing unnecessary and costly offshore oil and gas revenue sharing payments that are set to be paid to a handful of states under current law.
Supporting the Denali Commission. The Budget provides the Denali Commission—an independent Federal agency created to facilitate technical assistance and economic development in Alaska—with $19 million, including an additional $4 million above the FY16 enacted level, to coordinate Federal, State, and Tribal assistance to communities to develop and implement solutions to address the impacts of climate change. This follows the President's announcement this August that the Denali Commission will play a lead coordination role for Federal, State, and Tribal resources to assist communities in developing and implementing both short- and long-term solutions to address the impacts of climate change, including coastal erosion, flooding, and permafrost degradation.
Building Capacity and Critical Infrastructure in Alaska Native Villages. The Budget provides over $100 million across several Federal agencies to support planning and infrastructure in high-need Alaska Native Villages, including:
•      $5 million at the Department of the Interior's Bureau of Indian Affairs to support resilience planning and subsistence activities for Alaska Native communities.
•      $2 million at the Department of Agriculture (USDA) for the "StrikeForce" Initiative, to provide addition outreach and technical assistance to Alaskan Villages so they are better able to access USDA programs.
•      $26.8 million is available to obligate through USDA's Rural Alaska Villages grant program for essential water and waste projects. Priority will be given to applications for projects that employ green infrastructure.
•      $17 million at the Environmental Protection Agency for water infrastructure grants in Alaska Native villages.
•      More than $40 million in Arctic-focused investments at the Department of Energy, including $4.5 million through the Tribal Energy Program, which delivers customized, on-site technical expertise to support community energy planning and clean energy projects.
The President's Budget also builds on steps the Administration has taken to improve community resilience to the effects of climate change and conserve our natural resources and outdoor spaces—both in Alaska and across the country.
Providing Full Funding for Land and Water Conservation Fund (LWCF) Programs.
The budget supports reliable funding for the LWCF programs to protect and conserve the habitat of threatened and endangered species, secure public access, improve recreational opportunities and preserve ecosystem benefits for local communities. The Budget proposes full funding of $900 million in FY 2017 for LWCF programs in DOI and USDA, an amount equal to the oil and gas receipts deposited in the LWCF each year. This total includes $475 million in discretionary funds and $425 million in mandatory funds. Of this amount, $21 million is for sportsmen and recreational access. With the additional mandatory funds, NPS would be able to acquire six parcels in Denali National Park to protect the historic Denali Park Road, where the majority of tourists experience the park by viewing the mountains and wildlife.
Funding the National Park Centennial Initiative. To continue to care for our national parks and to mark the 100-year anniversary of the founding of the National Parks Service (NPS), the Budget includes an increase of $206 million in discretionary funds in FY 2017 and $500 million a year for three years in mandatory funds to restore facilities and enhance visitor services at some of our greatest historical, cultural, and natural treasures. For example, the President's 2017 Budget includes $4.7 million to provide safe public access to the historic Kennecott Mine in Wrangell-St. Elias National Park & Preserve, making this a promising tourist destination.
In addition, today the Administration announced that $8.3 million will be allocated in the U.S. Army Corps 2016 work plan for safety related and other improvements of the harbor in Port Lions, Alaska.
Barack Obama, Fact Sheet: President Obama Proposes New Funding to Build Resilience of Alaska's Communities and Combat Climate Change Online by Gerhard Peters and John T. Woolley, The American Presidency Project https://www.presidency.ucsb.edu/node/322761