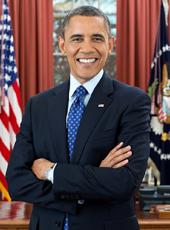 Fact Sheet: President Obama Announces New Investments to Enhance Safety and Security in the Changing Arctic
Climate change is reshaping the Arctic in profound ways. The global Arctic has warmed approximately twice as fast as the rest of the world, resulting in significant impacts on land and sea. Among the most noticeable changes is the retreat of Arctic sea ice, which has experienced significant, sustained declines in both extent and thickness in recent decades. This past February, the Arctic sea-ice maximum reached an all-time record low: about 1.1 million square kilometers – an area more than twice the size of California – below average. As sea-ice cover diminishes because of climate change, marine traffic is expected to increase in the Arctic, including traffic from fishing and mineral exploration to cargo shipping and tourism.
The Arctic Ocean can be volatile and unpredictable, presenting challenges to safe operations. Arctic ecosystems are among the most pristine and understudied in the world, meaning increased commercial activity comes with significant risks to the environment. Consistent with the priorities laid out in the 2013 National Strategy for the Arctic Region, today in Seward, Alaska, President Obama will announce new steps to accelerate the acquisition of additional icebreakers to ensure the United States can operate year-round in the Arctic Ocean. In addition, the Obama Administration will announce efforts to enhance scientific observations of the Arctic to increase our understanding of this vital region.
Accelerating the acquisition of new Coast Guard icebreakers. After World War II, the United States Coast Guard had seven icebreakers in its fleet – four under the U.S. Navy and three under the U.S. Coast Guard. Today, the United States technically has three icebreakers in its fleet – all under the command of the U.S. Coast Guard. However, when age and reliability are taken into account, the fleet is down to the equivalent of two fully functional icebreakers and only one heavy-duty icebreaker. Russia, on the other hand, has forty icebreakers and another eleven planned or under construction.
The growth of human activity in the Arctic region will require highly engaged stewardship to maintain the open seas necessary for global commerce and scientific research, allow for search and rescue activities, and provide for regional peace and stability. Accordingly, meeting these challenges requires the United States to develop and maintain capacity for year-round access to greater expanses within polar regions.
That is why the Administration will propose to accelerate acquisition of a replacement heavy icebreaker to 2020 from 2022, begin planning for construction of additional icebreakers, and call on Congress to work with the Administration to provide sufficient resources to fund these critical investments. These heavy icebreakers will ensure that the United States can meet our national interests, protect and manage our natural resources, and strengthen our international, state, local, and tribal relationships.
Enabling safe marine operations and transportation in the Arctic. Climate change is readily apparent in the Arctic, especially with the rapid loss of Arctic ice. One consequence of the warming Arctic is the opening of Arctic Ocean transportation and the dramatic increase expected in oceangoing sea traffic. Even today, cruise ships are venturing farther north, with routine Arctic marine transit anticipated by approximately 2020. In response, National Oceanic and Atmospheric Administration (NOAA) and the U.S. Coast Guard (USCG) will take action to promote safe marine operations and transportation in the Arctic through mapping and charting efforts in the Bering, Chukchi, and Beaufort Seas, regions with newly open waters for which existing maps and charts are nonexistent or outdated. This will include a joint NOAA/USCG survey of a transit route through the Aleutians and Bering Strait, as well as a joint effort among NOAA, USGS, and the State of Alaska to use satellite data for shoreline and near-shoreline coastal mapping, critical to observing climate change in action.
Additionally, north of Dutch Harbor, located on the Aleutian Chain, there are no deep-water harbors in the U.S. Arctic capable of providing shelter to vessels operating in, or transiting through, the U.S. Arctic region. In February 2015, the U.S. Army Corps of Engineers began a process to evaluate the feasibility of deepening and extend Nome's harbor capabilities. Such a project could potentially enhance the region's ability to shelter ships from the Arctic weather and serve as a safe standby location for vessels involved in operations farther north.
Ensuring continued subsistence fishing, healthy ecosystems and safety is critical to these efforts. To that end, the Administration, with DOI in the lead, will continue to consult with Alaska Native communities with respect to shipping issues and climate-induced impacts.
In the near future, NOAA will modernize and install additional instrumentation on the Arctic coast to monitor the effects of climate change and enable safe marine operations and transportation—including a permanent National Water Level Observing Network station to monitor sea-level rise, and up to six temporary water-level stations—and in 2015, NOAA will announce the availability of a new operational Arctic sea-ice thickness satellite product.
Launching a demonstration project for Arctic marine-biodiversity observing. This year, the Arctic Marine Biodiversity Network (AMBON) will launch the first of three sampling cruises (with others to launch in 2016 and 2017) as part of a five-year demonstration project. These cruises will gather a broad range of Arctic marine-biodiversity data, including bird and mammal observations, water-column analysis (temperature, salinity, chlorophyll-a extraction, nutrients, etc.), and information on microbes and small eukaryotic plankton, zooplankton, sediment cores, and fishes.
Hosting an international workshop on community-based ecological monitoring. Communities in the Arctic and other Northern regions depend on healthy and productive ecosystems for food and cultural value. Community-based observing has emerged as an important tool in expanding understanding of topics such as human and ecological health, food systems, and weather and climate at local and regional scales, and for providing a mechanism for the Federal Government to partner with non-Federal entities to understand each other's perspectives and information needs. Federal agencies, including the National Science Foundation (NSF), Environmental Protection Agency (EPA), NOAA, DOI, and the Department of Homeland Security (DHS), have all supported community-based observing projects over the past decade. Building on this work, the U.S. Government will work with the Arctic Council's working groups and other international entities to support a session on community-based observing at the upcoming Arctic Observing Summit to be held in Fairbanks, AK in March 2016. The session will explore best practices for developing and sustaining community-based observing, and how community-based observing projects can foster youth engagement and science, technology, engineering and mathematics (STEM) education, technology development and adoption, and appropriate handling of culturally sensitive data.
Celebrating the National Parks centennial. In conjunction with his visit to Kenai Fjords National Park, President Obama is announcing the transmittal of draft legislation to Congress that would help the National Park Service prepare for its upcoming 100th anniversary by revitalizing national parks, upgrading park facilities, and connecting a new generation to the great outdoors.
As the National Park Service (NPS) approaches its centennial anniversary in 2016, the Administration is working to ensure that our national parks, facilities, and educational programs are of the highest quality. We are also working to ensure that our parks and historic sites fully represent our nation's ethnically and culturally diverse communities, and that all Americans, regardless of their background or where they live, are able to access and enjoy these remarkable places. If enacted, the "National Park Service Centennial Act" would support these goals and establish, clarify, or expand a number of key authorities to enable NPS to better serve the American people. The Act will also promote volunteerism and help connect the next generation to the outdoors.
Barack Obama, Fact Sheet: President Obama Announces New Investments to Enhance Safety and Security in the Changing Arctic Online by Gerhard Peters and John T. Woolley, The American Presidency Project https://www.presidency.ucsb.edu/node/321618