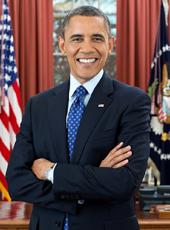 Fact Sheet: President Obama to Announce New Steps to Attract Foreign Investors and Create Jobs through the Continued Expansion of the SelectUSA Initiative
The United States is the bright spot in the global economy, further proof that the President's middle class economic agenda is working. More than 12 million jobs have been created over the last 60 months, and wages are beginning to rise again. In fact, U.S. businesses have added more than 200,000 jobs per month every month for 12 consecutive months—the first time that's happened in 37 years.
Global investors have taken notice and are accelerating their investment in the United States, already home to more foreign direct investment than any other country in the world. Foreign businesses have injected an average of $67 billion a quarter into the U.S. economy over the last three quarters, compared with an average of $49 billion quarterly from 2009 to 2013, according to Department of Commerce data released last week.
To maintain this momentum, today the President will announce new Administration initiatives to bring job-creating investment from around the world to the United States at the second SelectUSA Investment Summit.

• Investment Announcements: Summit participants have already announced at least $13 billion in U.S. investments over the last year and an estimated 32,500 new U.S. jobs, according to data compiled by fDi Markets.

• Further Expansions to SelectUSA: Commerce Secretary Penny Pritzker will create the first-ever federal advisory committee focused on attracting and retaining foreign direct investment into the United States. SelectUSA will strengthen its partnership with states and expand customized trainings for first-time investors.

• Administrative Actions to Recruit and Retain Global Talent: The Department of Homeland Security will clarify guidelines for global companies seeking to staff new and expanding U.S. operations with specialized knowledge related to their company or industry without impacting job opportunities for U.S. workers.
Second SelectUSA Investment Summit
Established by the President in 2011, SelectUSA is the first-ever government wide program to promote and facilitate job-creating business investment into the United States. Today, more than 2,600 people—including 1,300 companies from more than 70 countries and over 500 U.S. economic development officials from across the country—will attend the second SelectUSA Investment Summit for two days of matchmaking, information sessions, and presentations.
The United States is the world's premier destination for investment and home to more foreign direct investment than any other country in the world. During the past year alone, 170 of the foreign firms attending the Summit have announced U.S. investments valued at about $13 billion and expected to create more than 32,500 U.S. jobs, according to data compiled by fDi Markets. The announcements come as the U.S. enjoys accelerated inflows of foreign direct investment in recent quarters.
This surge in FDI follows President Obama's 2013 announcement of an aggressive enhancement and expansion of his SelectUSA investment-promotion initiative—and the results are billions in returns on taxpayer investment.
Since 2011, SelectUSA has helped facilitate more than $20 billion of investments in the United States, generating thousands of jobs and spurring economic growth. The program doubled the number of investors and U.S. economic development organizations (EDOs) it served last year to over 1,000, and is on track to increase its client base by more than 50 percent this year.
Actions to Enhance SelectUSA and Increase U.S. Attractiveness to Investors
Today, the Administration will announce further expansion of its assistance to U.S. economic development organizations and to international investors, through new partnerships with states, enhanced online tools, and a SelectUSA training program that was piloted at the Summit. Specifically:

• New partnership with state economic development organizations: SelectUSA will convene at the Summit the first semi-annual gathering of a collaborative platform for federal and state economic development officials. The partnership will improve state-federal coordination, inform SelectUSA services and programs, and promote high standards in investment-promotion activities across the country.

• Federal advisory committee: Commerce Secretary Penny Pritzker will establish the first-ever federal advisory committee to solicit formal input on the development and implementation of strategies and programs to attract and retain foreign direct investment in the United States.

• Improved online tools for investors: SelectUSA has made available on its site for the first time a database of state-level incentives. The Department of Commerce has also made the website clustermapping.us, a joint project of the Harvard Business School and the Economic Development Administration, available to investors and economic developers. The Cluster Mapping website provides data and tools that make it easier for investors to identify regional concentrations of specific industries and locate potential economic partners. SelectUSA is committed to further improving online tools so that investors can more fully consider the advantages offered by the United States.

• New and improved foreign direct investment data coming out this year: The Bureau of Economic Analysis (BEA) will begin to report new data this year about the impact of foreign direct investment on the U.S. economy, and FDI contributions to employment. The data will allow investors and policymakers to distinguish and assess patterns of "greenfield" investments that establish new U.S. businesses.

• Launch of SelectUSA Academy: Through 2014, SelectUSA provided consultation for U.S. economic developers, seminars in at least 25 countries for investors, and a 101 series of webinars on infrastructure investing. This culminated in the first-ever SelectUSA Academy, held March 22nd, the evening before the Summit kick-off. Building on the success of this effort, SelectUSA will expand online and on-site training programs for investors and EDOs.

• U.S. to be featured at 2016 Hannover Messe: Today, U.S. and German officials announced that the United States, led by the Department of Commerce, will be the featured official "Partner Country" for the 2016 Hannover Messe. Hannover Messe is the largest industrial trade fair in the world, attracting approximately 6,500 exhibitors and 250,000 visitors every year. As Partner Country, the United States will be featured to a global audience as a supplier of high quality products and a prime location for business investment.

• Policy Guidance for L-1B Visas: Policy Guidance for L-1B Visas: U.S. Citizenship and Immigration Services will increase clarity around the adjudication of the L-1B non immigrant visa that allows international companies to temporarily deploy workers with specialized knowledge to the United States when launching or conducting operations here. This long-anticipated policy guidance, released today for public feedback, is of particular interest to global companies participating in the SelectUSA Investment Summit.
Surging Interest in the U.S. as Place to Locate Businesses and Create Jobs
Record attendance at the Summit—more than twice as large as the inaugural 2013 event—reflects growing global interest in the United States as a place to launch and expand operations, invest in research and development, and create jobs. In fact:

• Foreign direct investments have surged the last three quarters of 2014, compared with the year-earlier period. New Commerce Department data released last week showed that global investors pumped an average of $67 billion every quarter into the U.S. economy in the last three quarters of 2014, compared with an average of $50 billion per quarter in recent years.

• Surveys show investors rate the U.S. as top destination for investment. After eclipsing China, Brazil, and India in 2013 to take the top spot in A.T. Kearney's FDI Confidence Index, the United States remains "the prime destination" for investment in the world, according to the consulting firm's survey of C-suite executives. More than half of large manufacturers will increase U.S. hiring by 5 percent or more in 2015, according to an October survey by the Boston Consulting Group.
Barack Obama, Fact Sheet: President Obama to Announce New Steps to Attract Foreign Investors and Create Jobs through the Continued Expansion of the SelectUSA Initiative Online by Gerhard Peters and John T. Woolley, The American Presidency Project https://www.presidency.ucsb.edu/node/321036