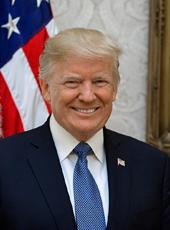 Fact Sheet - President Donald J. Trump Is Strengthening Efforts To Combat Drug Trafficking And Protect Our Communities
As governments and nations focus on the coronavirus, there's a growing threat that cartels, criminals, terrorists, and other malign actors will try to exploit the situation for their own gain. And we must not let that happen. --President Donald J. Trump
PROTECTING AMERICANS: President Donald J. Trump is working to protect Americans from the scourge of traffickers who bring deadly drugs to our shores and into our communities.
Earlier this year, President Trump directed his Administration to begin conducting enhanced counternarcotics operations in the Western Hemisphere.

This effort is combating the growing threat of narco-terrorists, traffickers, cartels, and criminals exploiting the coronavirus pandemic to funnel deadly drugs into America.

To conduct these operations, President Trump directed the deployment of additional ships, aircraft, and security forces to assist in the mission.
At the President's direction, the Secretary of Defense later ordered units of the Selected Reserve into active duty to support forces already engaged in this mission.
These military deployments in the Caribbean and Eastern Pacific will continue to counter the threat posed by illegal narcotics trafficking and criminal groups.
STEMMING THE FLOW OF ILLICIT DRUGS: The President's enhanced counternarcotics operations in the Western Hemisphere are helping to cut off the flow of illicit drugs into America.
The United States is working to disrupt the flow of deadly drugs into America from transnational criminal organizations and traffickers, including those tied to the illegitimate Maduro regime in Venezuela.

For years, these traffickers have flooded the United States with drugs that threaten the safety and security of all Americans.

The United States, along with the 22 partner nations that have joined the fight, have increased surveillance aircraft by 75% and ships by 65% over previous years.
Since our enhanced counternarcotics efforts were launched, the United States and international partners have seized more than 120 metric tons of narcotics worth billions of dollars and made more than 1,000 arrests.
COMBATING THE DRUG EPIDEMIC: Deadly drug supplies have decimated communities across the country, costing precious American lives.
President Trump has long made it a priority of his Administration to end the drug overdose epidemic that kills approximately 70,000 Americans each year.
To prevent illicit drugs from poisoning our communities, the President is fulfilling his promise to build a new border wall and secure our Southern Border.
President Trump has engaged with China and Mexico to reduce supplies of heroin, fentanyl, and other illicit opioids.
The Administration has cracked down on the distribution of deadly drugs over the internet, including shutting down the country's biggest Darknet distributor of drugs.
Through the President's Initiative to Stop Opioid Abuse and Reduce Drug Supply and Demand, the Trump Administration is leading efforts to reduce opioid supplies, prevent opioid abuse, and increase treatment and recovery services.
Donald J. Trump, Fact Sheet - President Donald J. Trump Is Strengthening Efforts To Combat Drug Trafficking And Protect Our Communities Online by Gerhard Peters and John T. Woolley, The American Presidency Project https://www.presidency.ucsb.edu/node/343092