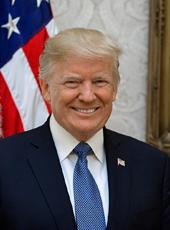 Fact Sheet - President Donald J. Trump Remains Committed to Egypt and Middle East Stability
"It's a great honor to be with President El-Sisi, a friend—a great friend—of Egypt. And we have very special things happening. Our relationship has never been stronger. And we're working with Egypt on many different fronts, including military and trade." --President Donald J. Trump
A STRATEGIC AND POWERFUL PARTNERSHIP: The United States and Egypt have a strong relationship with many security and economic implications.
Today marks the second visit of President El-Sisi to the White House since 2017.
Egypt has long been an important strategic partner in the Middle East.
United States assistance to Egypt has played a central role in the country's economic and military development.

Since the 1979 Egypt–Israel Treaty of Peace, the United States has provided Egypt with more than $40 billion in military assistance and $30 billion in economic assistance.

Egypt has become an anchor of stability in the Middle East, as exemplified by its enduring forty-year peace with Israel.
The United States encourages the Egyptian government to preserve space for civil society and to protect human rights.
PROMOTING REGIONAL STABILITY: President Trump is strengthening our partnership with Egypt and promoting regional stability across the Middle East.
President Trump is working with Egypt on issues impacting regional stability including conflicts in Libya, Syria, and Yemen and progress on the Middle East Strategic Alliance.
The Trump Administration is working with Egypt to combat terrorism and to stop the spread of radical Islamic terrorism.

The United States is providing Egypt with military training and equipment to support counterterrorism efforts.
We continue to strengthen our strategic relationship through security cooperation and broader security efforts.
President Trump applauds Egypt's efforts to advance female economic empowerment and promote religious freedom.
The Trump Administration supports the Egyptian government's bold program of economic reform, which will set Egypt on the course of long-term economic stability.
Egypt hosted the inaugural meeting of the Eastern Mediterranean Gas Forum, which will enhance economic cooperation and shared prosperity among countries across the region.
EXPANDING FAIR AND RECIPROCAL TRADE: President Trump is building on the strong and robust trade relationship between the United States and Egypt.
The United States and Egypt have a robust bilateral trade relationship.
President Trump hopes to build on this relationship through cooperation and mutual benefit.
America is one of Egypt's leading trade partners.

In 2018, the United States goods trade surplus with Egypt was $2.6 billion, a 9.3 percent increase from 2017.
In 2018, United States goods exports to Egypt totaled $5.1 billion, up 26.7 percent from 2017.

America and Egypt continue to work together to promote fair trade and increased investment by addressing market access, standards, labor, and intellectual property protection issues.
Donald J. Trump, Fact Sheet - President Donald J. Trump Remains Committed to Egypt and Middle East Stability Online by Gerhard Peters and John T. Woolley, The American Presidency Project https://www.presidency.ucsb.edu/node/334741