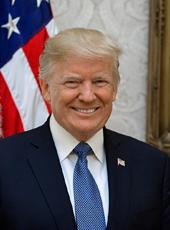 Fact Sheet - President Donald J. Trump Has Unleashed American Producers and Restored Our Energy Dominance
With the tremendous progress we have made over the past three years, America is now energy independent. --President Donald J. Trump
LEADING AN ENERGY REVOLUTION: American energy production is soaring to new heights under President Donald J. Trump's pro-jobs, pro-national security, and energy independence agenda.
Under President Trump's leadership, the United States has become the world's number one producer of oil and maintained our position as the number one producer of natural gas.
American energy exports reached an all-time high last year, marking the first time in 67 years that our annual gross energy exports exceeded our gross energy imports.

Crude oil production hit new record highs both last year and the year before, leaping past the previous record set in 1970.

Crude oil production was up 38 percent last year compared to 2016.
The Trump Administration has increased exports of U.S. liquefied natural gas (LNG) by nearly five-fold and issued 20 long-term authorizations for LNG exports.
The President is taking further action today to promote our energy independence by signing four critical permits for vital pipeline and railway infrastructure on our Nation's borders.
President Trump has proven that energy production and environmental stewardship are not mutually exclusive, as America continues to be a world leader in clean air, including in energy-related CO2 emissions.

Our Nation's air quality has improved by 77 percent over the last 50 years, including 7 percent under President Trump.
ACHIEVING HISTORIC DEREGULATION: President Trump's deregulation campaign has eliminated unnecessarily burdensome rules that stifled domestic energy production.
The deregulatory actions taken by the Trump Administration are simultaneously benefiting the American consumer and the energy sector by lowering cost, speeding up projects, and removing unnecessary bureaucratic and regulatory hurdles.
President Trump has signed multiple Executive Orders to speed up energy infrastructure development and support American energy jobs.
The Administration took action to right-size the Federal Government's environmental review process, the first such update in over 40 years.
President Trump has ended the Obama Administration's war on coal and is replacing the expensive, job-killing Clean Power Plan with the Affordable Clean Energy (ACE) rule.
All told, the President's actions unleashing the shale revolution are saving Americans over $200 billion annually through lower energy prices.

This is disproportionately benefiting poor households who typically spend a greater percentage of their income on gasoline, natural gas, and electricity bills.
RESTORING OUR GREATNESS: The President's leadership and decisive action during the pandemic have enabled the energy industry to contribute to the Nation's economic recovery.
President Trump's leadership throughout the coronavirus pandemic has given energy producers the support they need to keep afloat.
A recent analysis showed that the Paycheck Protection Program for companies struggling with the coronavirus pandemic saved more than half of oil field jobs in Texas.

The Small Business Administration has made more than $1 billion in forgivable loans to Texas oil field producers to keep their employees on the payroll.

While energy producers were hit hard by the sudden drop in demand, due in part from the coronavirus, consumer demand and oil and natural gas production are rapidly returning.
With the help of the President's policies, American energy companies will be at the forefront of our Nation's rapid economic recovery.
Donald J. Trump, Fact Sheet - President Donald J. Trump Has Unleashed American Producers and Restored Our Energy Dominance Online by Gerhard Peters and John T. Woolley, The American Presidency Project https://www.presidency.ucsb.edu/node/343144