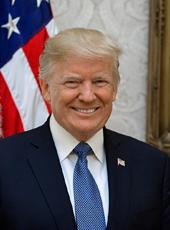 Fact Sheet - President Donald J. Trump Has Made it a Priority to Combat the Heinous Crime of Human Trafficking
"My Administration is committed to leveraging every resource we have to confront this threat, to support the victims and survivors, and to hold traffickers accountable for their heinous crimes." --President Donald J. Trump
ERADICATING HUMAN TRAFFICKING: President Trump has made it a priority to leverage every resource of the Federal Government to end the scourge of human trafficking.
The President's Interagency Task Force to Monitor and Combat Trafficking in Persons released a new report describing the Administration's progress combating human trafficking.

The Task Force consists of 19 departments and agencies, which work tirelessly to prosecute traffickers, protect survivors, and prevent future crime.

Through the Anti-Trafficking Coordination Team (ACTeam) initiative, Federal law enforcement more than doubled convictions of human traffickers and increased the number of defendants charged by 75% in ACTeam districts.
In 2018, the Department of Justice (DOJ) dismantled an organization that was the internet's leading source of prostitution-related advertisements resulting in sex trafficking.
The Office of Management and Budget published new anti-trafficking guidance for government procurement officials to more effectively combat human trafficking.
Immigration and Customs Enforcement's Homeland Security Investigations arrested 1,588 criminals associated with Human Trafficking and identified 325 victims in fiscal year 2018.
FIGHTING TRAFFICKING ON ALL FRONTS: The Administration is committed to thwarting all forms of human trafficking within the United States, at our border, and internationally.
The efforts of our Nation's heroic law enforcement officers are vital to combating the tragedy of human trafficking.
Federal agencies have provided training to tens of thousands of law enforcement officers.
United States law enforcement officers are collaborating with Mexican law enforcement officials to dismantle human trafficking networks operating across the U.S.-Mexico border.
The Administration is challenging foreign governments that facilitate and fail to punish human trafficking to implement anti-trafficking laws to convict traffickers and protect victims.
PROTECTING VICTIMS: The Administration is working aggressively to protect and assist every survivor of human trafficking.
The Department of Health and Human Services provided funding to support the National Human Trafficking Hotline to identify perpetrators and give victims the help they need.

The hotline identified 16,862 potential human trafficking cases and provided 14,419 referrals to services between October 2017 and March 2019.

DOJ provided grants to organizations that support human trafficking victims – serving nearly 9,000 cases from July 1, 2017, to June 30, 2018.
The Department of Homeland Security has hired more victim assistance specialists, helping ensure that victims have the proper resources and support.
The Department of Transportation has announced $4 million in grants to transit agencies to address public safety, including human trafficking.
The Federal Government continues to provide awareness training to first-responders to detect and respond to trafficking and to prepare all citizens to identify and report it.
Donald J. Trump, Fact Sheet - President Donald J. Trump Has Made it a Priority to Combat the Heinous Crime of Human Trafficking Online by Gerhard Peters and John T. Woolley, The American Presidency Project https://www.presidency.ucsb.edu/node/334865