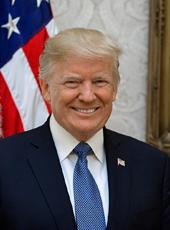 Fact Sheet - President Donald J. Trump Is Committed to Supporting Working Families
My administration will also continue to advocate for policies that support working families, including making child care more affordable and accessible. --President Donald J. Trump
SUPPORTING WORKING FAMILIES: President Trump has made expanding access to child care and paid family leave a priority of his Administration.
The Administration is laying out principles for common sense, innovative child care policy reforms and practices that increase access to quality care, choice, and flexibility for America's working parents.
Last year, President Trump signed legislation securing a historic level of funding for the Child Care and Development Block Grant.

This funding helps low-income families access quality child care programs.

During his first State of the Union Address, the President called on Congress to pass a nationwide paid family leave plan.
President Trump became the first President to include paid family leave in his budget and has included paid family leave in all of his budgets since taking office.
President Trump's tax reforms provided a new tax credit to incentivize businesses to offer paid family leave to their employees.
The Administration worked with Congress to secure paid parental leave for all Federal employees in the 2019 National Defense Authorization Act.

The Administration's efforts, spearheaded by Advisor to the President Ivanka Trump, ensure the Government is leading by example.
LIFTING UP FAMILIES: President Trump's pro-growth policies are helping families across the country to prosper.
President Trump's pro-growth policies have ignited an economic resurgence, leading to more opportunity and bigger paychecks for workers and their families.
President Trump's historic Tax Cuts and Jobs Act cut taxes for American families and implemented reforms to help families get ahead.

The President's historic tax reforms doubled the child tax credit benefitting nearly 40 million American families with an average of over $2,200 dollars in 2019.
The President's legislation created a new $500 tax credit for dependents age 17 or older.
Millions of workers gained bonuses, wage increases, and increased benefits for their families following the signing of the Tax Cuts and Jobs Act.

In 2018 alone, nearly 300,000 American families were lifted out of poverty.

Over 600,000 children being raised by single mothers were lifted out of poverty in 2018.
ECONOMIC EXCELLENCE: The booming economy and strong labor market are allowing Americans of all backgrounds to find work and succeed.
Under President Trump, there are more Americans working than ever before, wages are rising, and unemployment is plummeting.
More than 7 million jobs have been created since President Trump's election.
The unemployment rate has dropped to 3.5%, matching its lowest point in half a century.
African-American, Hispanic-American, and Asian-American unemployment have all reached record lows under President Trump.
Since President Trump's election, 2.1 million prime-age workers have joined the labor force.
Donald J. Trump, Fact Sheet - President Donald J. Trump Is Committed to Supporting Working Families Online by Gerhard Peters and John T. Woolley, The American Presidency Project https://www.presidency.ucsb.edu/node/335217