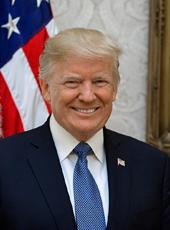 Fact Sheet - President Donald J. Trump is Celebrating 100 Years of Successful Diplomatic Relations with Finland
"We very much appreciate Finland. We very highly respect your country, our relationship has been a very good one, and our personal relationship has been very good." --President Donald J. Trump
CELEBRATING A CENTURY-LONG PARTNERSHIP: President Donald J. Trump is proud to celebrate the 100th anniversary of the United States strong diplomatic relationship with Finland.
President Trump is welcoming President Sauli Niinistö of Finland to the White House to celebrate and enhance the longstanding and valuable cooperation between our nations.

The United States and Finland cooperate on regional and global security, countering hybrid threats, counterterrorism, and promoting free, fair, and reciprocal trade.

The United States and Finland share significant cultural and educational ties.

Each year, about 200,000 Finns visit the United States and roughly 230,000 Americans travel to Finland.
More than 750 Finnish students study in American universities while more than 450 Americans study at Finnish universities.

President Trump applauds Finland for agreeing to work with Native American tribes to return ancestral remains and funerary objects that were taken in the late 1800s.
PROMOTING A VALUED ALLIANCE: Finland is an important partner that supports American and international efforts to maintain stability and counter current security threats.
As an "Enhanced Opportunity Partner," Finland is an important partner to NATO.
Finland has joined United States efforts to combat increasing hybrid threats, which often seek to destabilize countries without using significant force.

The European Center of Excellence for Countering Hybrid Threats, which the United States helped establish, is based in Finland and aims to assist states in understanding and defending against hybrid threats.

Finland is a member of the Coalition to Defeat ISIS and maintains troops on the ground training Iraqi soldiers every day.
The United States is partnering with Finland and other Arctic nations to address new threats to the Arctic and defend our interests there through promoting innovation, entrepreneurship, and sustainable development in the region.
The United States values Finland's leadership and efforts to maintain stability in the Baltic Sea, High North, and Arctic regions.
REAFFIRMING OUR ECONOMIC TIES: The United States and Finland share a thriving trade and investment partnership that greatly benefits both countries.
Finland shares the United States commitment to open and fair trade, and the value of trade between our nations has steadily increased.

Each year, the United States exports nearly four billion dollars worth of goods and services to Finland, and the United States is Finland's third largest export market.

Finland's Foreign Direct Investment stock in the United States currently stands at more than $10 billion and Finnish-owned companies employ more than 20,000 people in the United States, according to the most recent data.
Donald J. Trump, Fact Sheet - President Donald J. Trump is Celebrating 100 Years of Successful Diplomatic Relations with Finland Online by Gerhard Peters and John T. Woolley, The American Presidency Project https://www.presidency.ucsb.edu/node/334921