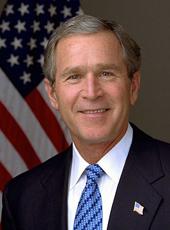 Fact Sheet: President Bush's Agenda for Job Creation and Economic Opportunity
Today, President Bush Addressed The Economic Club Of Chicago On His Agenda To Continue Creating Jobs And Expand Economic Opportunity. The President discussed the policies that must be in place to keep the economy growing in 2006. The economy added 108,000 new jobs in December and has added more than 400,000 jobs in the last two months. More than 4.6 million new jobs have been added since May 2003. The unemployment rate is now down to 4.9 percent - lower than the average of the 1970s, 1980s and 1990s.
Opportunity Starts With Economic Growth
The President Has Acted To Maintain Growth By Cutting Taxes. In the past five years, the economy has endured a stock market collapse, recession, terrorist attacks, corporate scandals, high energy costs, and natural disasters. These economic shocks required decisive action. The President called on Congress to cut taxes - and Congress responded. Taxes were lowered on individuals and families, and by cutting taxes, the Administration helped raise real after-tax income per person by 7 percent while the President has been in office - making a real difference for America's families.
Tax Cuts Have Helped Create More Jobs. When people keep more of their money, they demand more goods and services, and businesses hire more workers to help meet this demand. Most new jobs are created by small business owners, and most of these owners pay taxes at the individual income tax rates. When taxes were lowered on individuals, taxes were lowered for many small businesses. As rates decreased, incentives were created for small businesses to invest in new equipment and facilities so that they could expand and create jobs.

Tax Cuts On Dividends And Capital Gains Have Benefited American Families. Half of American households have some investment in the stock market. Tax cuts on dividends and capital gains boosted confidence in the economy and gave people more money to invest - and the stock market added nearly $3 trillion in value. Americans' IRAs, 401k's, and mutual funds rose in value, and the net worth of Americans has increased 23 percent since the President took office. By lowering the costs of capital, these cuts increased opportunities for working families and helped fuel an economic expansion.

Tax Cuts On Dividends And Capital Gains Have Benefited The Treasury. Since taxes were cut, tax revenue from income has jumped about 17%, revenue from dividends and capital gains has increased an estimated 50%, and overall revenues have hit record levels.

The President Calls On Congress To Make Tax Relief Permanent. Despite strong evidence that tax cuts are working, some want to raise taxes by allowing the tax cuts to expire or repealing them now. If this happens, a family of four living in Chicago and making $50,000 would see its Federal income taxes go up by nearly 50%. When some say tax relief does not need to be made permanent, they are really saying they will raise taxes. To keep the economy growing, Congress needs to make the tax cuts permanent.
The President Is Acting To Restrain Spending. America is at war, and the government will spend what it takes to support the troops. That means the government must show discipline in other areas of the Federal budget. Each year the President has been in office, the growth rate for non-security discretionary spending has been reduced. Last February, the President's budget proposed an actual cut in non-security discretionary spending - the most disciplined proposal since Ronald Reagan was President. Working with Congress, the Administration ended or reduced about 90 low-priority or poorly performing government programs, cut non-security discretionary spending, and kept overall discretionary spending growth below the inflation rate. By passing pro-growth economic policies and insisting on spending restraint, the government is on track to cut the Federal deficit in half by 2009.
The President Will Work With Congress To Control Entitlement Spending. Entitlements, such as Social Security and Medicare, are growing faster than the ability to pay for them. These unfunded liabilities will put an increasing burden on future generations. The President has discussed and will continue to talk about the challenges facing Social Security and Medicare. Congress now has an opportunity to complete work on an important bill to rein in future spending on entitlements by nearly $40 billion.
The Government Will Address Other Important Challenges. A growing economy requires secure and affordable sources of energy; a health care system where workers can find affordable care; and a private pension system that is fully funded and keeps its promises. A growing economy requires legal reform and regulatory reform. The President will continue to discuss these issues in the coming weeks and months.
Ensuring Opportunity Through Education And Training
America Has A Moral And Economic Interest In Ensuring That Americans Have The Skills Needed To Succeed. As the global economy changes, America will need workers to fill the jobs of the 21st century, or the jobs will go elsewhere. Education will help Americans succeed. If recent patterns continue, the typical worker will hold 10 jobs between the ages of 18 and 38. To take advantage of new opportunities, workers will have to acquire new skills over their entire working careers. Education also means a higher standard of living. Evidence shows that higher education levels are directly connected to higher incomes. Today, the earnings gap between a high school diploma and college degree has widened to about $23,000 per year. To help Americans take advantage of new opportunities, the government will do its part to help them get the education they need.
Acquiring Needed Skills Begins With Making Sure America's Schoolchildren Can Read And Write And Add And Subtract. That is why the President proposed and Congress passed the No Child Left Behind Act (NCLB). The premise of this law is clear: students are expected to learn. In return for Federal money, the government insists that states measure their students' performance. If schools are succeeding, they will be praised. If schools need improvement, they must change. If schools do not change, parents will have other options for their children's education.
NCLB Is Leading To Results. The most recent scores from the National Assessment of Educational Progress show that American children have made strong gains over the past five years - especially in the earlier grades. The results show that for fourth and eighth graders, math scores for white, Hispanic, and African-American students were the highest they have ever been. Overall scores for fourth-grade reading matched the all-time high - with significant improvements for Hispanic and African-American students. As scores for all children have risen, the achievement gap has started to close.

NCLB's Standards And Accountability Need To Be Applied To Public High Schools. At the elementary school level, American students score above the international average in math and science. But in high school, American students rank below those in many other countries. The President has proposed initiatives to improve high schools by measuring progress with reading and math tests; helping teachers identify and help children in danger of falling behind; bringing professionals from the math and science fields into the classroom; and ensuring that teachers in low-income schools have the training needed to teach Advanced Placement courses. If children are to have the education needed to compete in a global economy, we need to raise the bar on performance in our high schools.
The Administration Is Making It Easier For More Americans To Receive A College Education. In the 21st century, the best jobs will require a college education. To make opportunity real for all Americans, college degrees must be more affordable. So the Administration has increased funding for Pell grants by 49% since 2001 and increased the number of students receiving Pell grants by one million - making them available to the largest number of students in the Nation's history.
The Federal Government Will Help Workers Get Job Training. People need to get training for jobs that actually exist, and that means job-training programs that are flexible, work with employers, and meet the local workplace's demands. Community colleges are one of the most effective ways to get people needed training. The Administration's Community-Based Job Training Grants are designed to help workers get job training in high-growth industries through community and technical colleges. These colleges work with employers to train workers for jobs that actually exist - and in 2005, the Administration awarded $125 million in grants and will help them again in 2006. By reforming job training programs and supporting community colleges, the government is helping workers improve their lives and keeping America a land of opportunity.
Ensuring Opportunity By Promoting Free And Fair Trade
America Must Welcome The Opportunities That A Global Economy Offers. Ninety-five percent of potential customers live abroad. Opening new markets will help the economy to continue to grow and create job opportunities for Americans.
The Administration Is Working To Ensure A Level Playing Field For American Products Abroad. The United States will continue to push for free and fair trade at the global level through the World Trade Organization and at the regional level through agreements such as CAFTA. The President believes that so long as there is a level playing field, the American worker, entrepreneur, and farmer can compete with anybody, any time, any place.
George W. Bush, Fact Sheet: President Bush's Agenda for Job Creation and Economic Opportunity Online by Gerhard Peters and John T. Woolley, The American Presidency Project https://www.presidency.ucsb.edu/node/282386