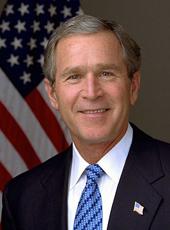 Fact Sheet: President Bush Signs the Fair and Accurate Credit Transactions Act of 2003
On December 4, 2003, President Bush signed into law the Fair and Accurate Credit Transactions Act of 2003, ensuring that all citizens are treated fairly when they apply for a mortgage or other form of credit.
The legislation will provide consumers, companies, consumer reporting agencies, and regulators with important new tools that expand access to credit and other financial services for all Americans, enhance the accuracy of consumers' financial information, and help fight identity theft. These reforms make permanent the uniform national standards of our credit markets, and institute new, strong consumer protections.
Background
The Fair and Accurate Credit Transactions Act of 2003 will accomplish the following key Administration priorities to help ensure that all Americans, of every income level and background, are able to build good credit and confront the problem of identify theft:
Ensuring that lenders make decisions on loans based on full and fair credit histories, and not on discriminatory stereotypes. In 1996, uniform national standards were established to set clear rules on what credit agencies were entitled to include in individual credit reports, and now more than a million Americans have credit as a result. This legislation makes those national standards permanent.
Improving the quality of credit information, and protecting consumers against identity theft.

Giving every consumer the right to their credit report free of charge every year. Consumers will be able to review a free report every year for unauthorized activity, including activity that might be the result of identity theft.
Helping prevent identity theft before it occurs by requiring merchants to leave all but the last five digits of a credit card number off store receipts. This law will make sure that slips of paper that most people throw away do not contain their credit card number, a key to their financial identities.
Creating a national system of fraud detection to make identity thieves more likely to be caught. Previously, victims would have to make phone calls to all of their credit card companies and three major credit rating agencies to alert them to the crime. Now consumers will only need to make one call to receive advice, set off a nationwide fraud alert, and protect their credit standing.
Establishing a nationwide system of fraud alerts for consumers to place on their credit files. Credit reporting agencies that receive such alerts from customers will now be obliged to follow procedures to ensure that any future requests are by the true consumer, not an identity thief posing as the consumer. The law also will enable active duty military personnel to place special alerts on their files when they are deployed overseas.
Requiring regulators to devise a list of red flag indicators of identity theft, drawn from the patterns and practices of identity thieves. Regulators will be required to evaluate the use of these red flag indicators in their compliance examinations of financial institutions, and impose fines where disregard of red flags has resulted in losses to customers.
Requiring lenders and credit agencies to take action before a victim even knows a crime has occurred. With oversight by bank regulators, the credit agencies will draw up a set of guidelines to identify patterns common to identity theft, and develop methods to stop identity theft before it can cause major damage.
This legislation gives consumers unprecedented tools to fight identity theft and continued access to the most dynamic credit markets in the world. With a free credit report and powerful new tools to fight fraud, consumers have the ability to better protect themselves and their families.
George W. Bush, Fact Sheet: President Bush Signs the Fair and Accurate Credit Transactions Act of 2003 Online by Gerhard Peters and John T. Woolley, The American Presidency Project https://www.presidency.ucsb.edu/node/280043